Year 3
Children Amaze At Roman Experience
Families were amazed by Year 3's creativity and knowledge on Tuesday evening at a special Roman Experience. There were 16 project displays made by the children, who all spoke confidently about their special topic, from mosaics and gladiators to emperors and goddesses. Some enjoyed a go on the archery range while many snacked on a Roman feast of pizza bread, honey biscuits and healthy snacks, prepared by the children. The evening finished with two songs about the Romans, written by the class. Well done Year 3 - Salute!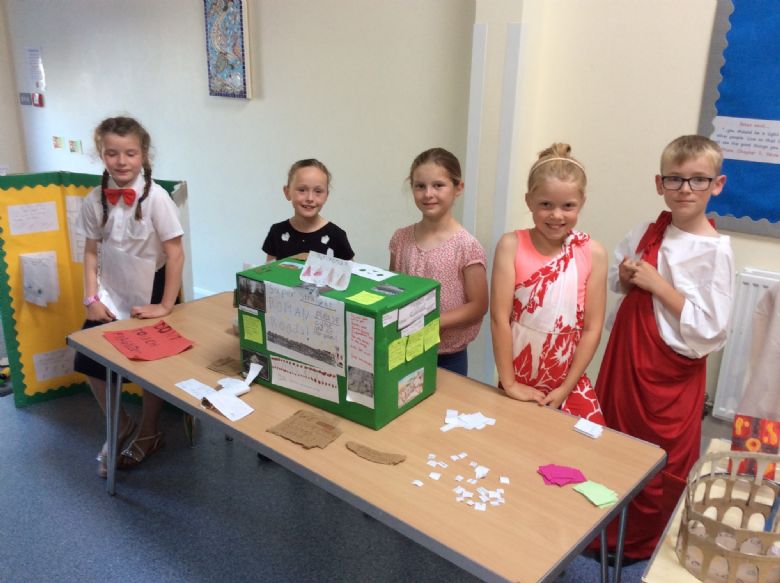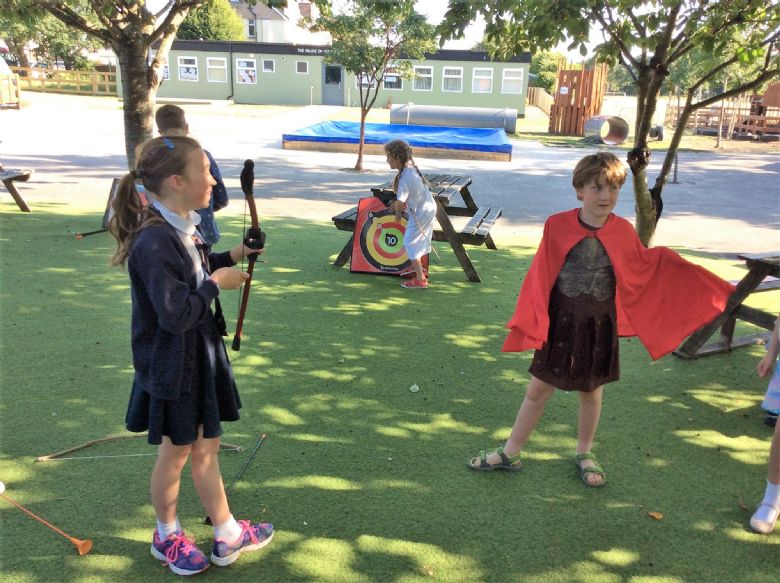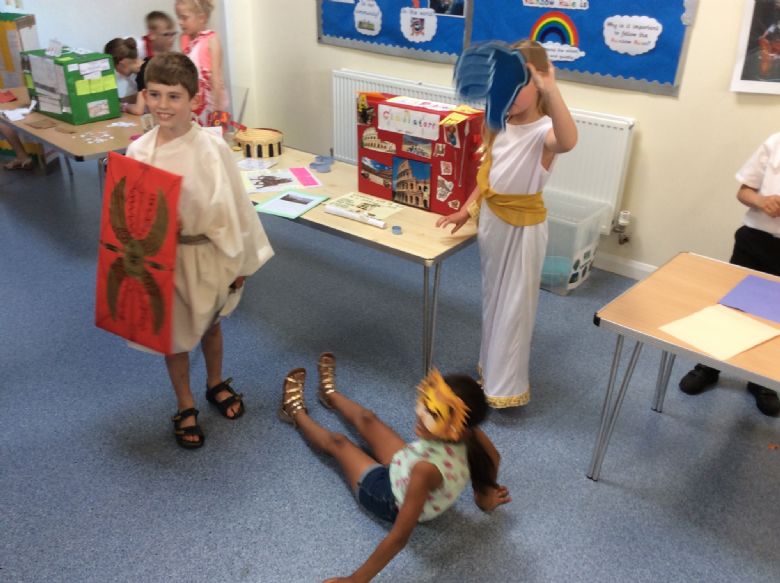 Play Dough Modelling!
We really enjoyed modelling 3D shapes using play dough! We then used our creations to think about the shapes properties - how many faces, edges and vertices each 3D shape has.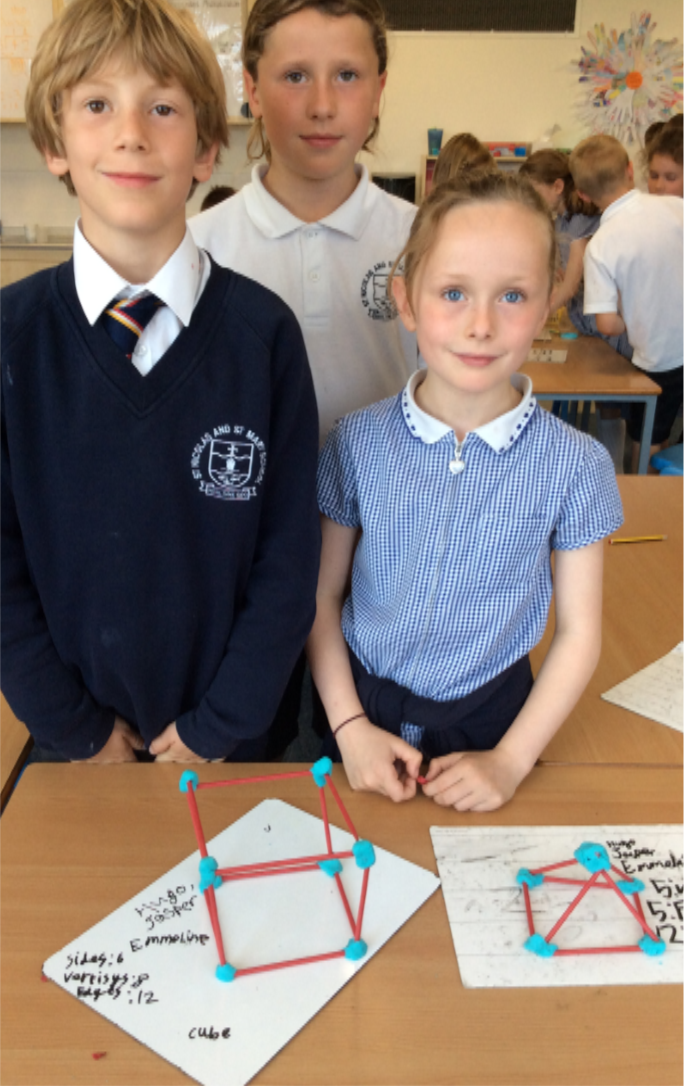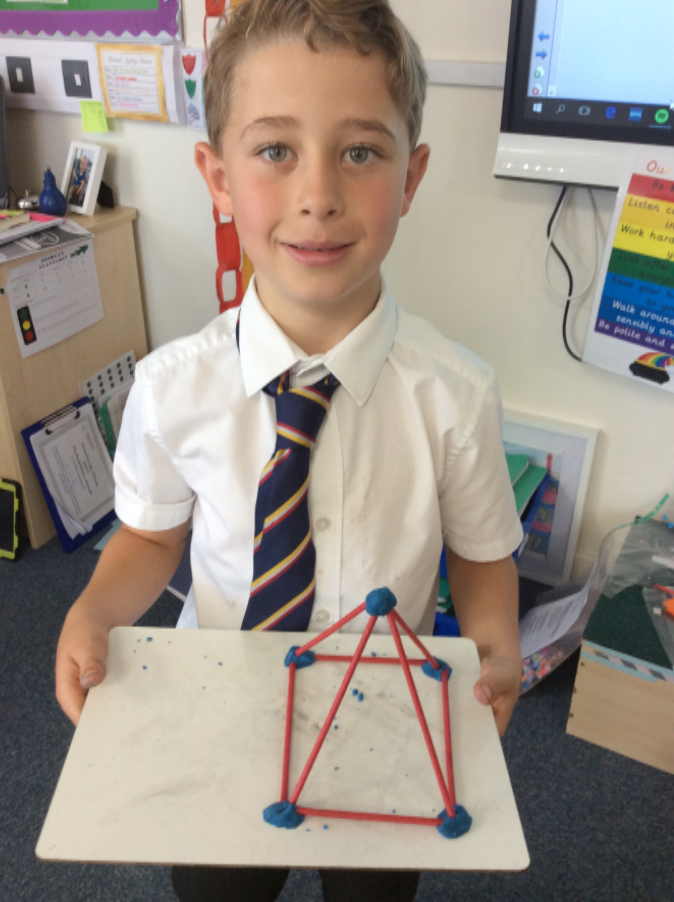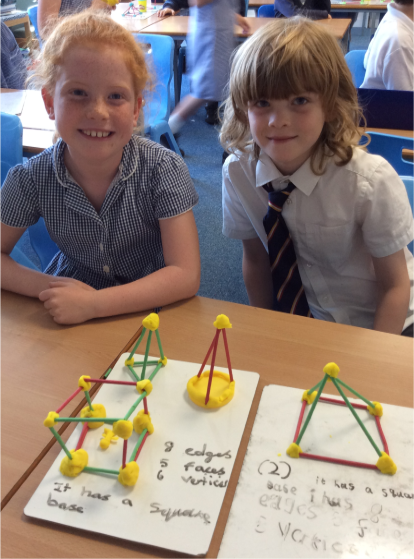 Rainbow Theatre a huge hit!
We LOVED our visit from Rainbow Theatre! They got everyone acting out different roles across the Roman empire, from market traders to servants, soldiers to road-builders, Celts to gladiators. The play was really funny and it was great to learn about so many different aspects of Roman life.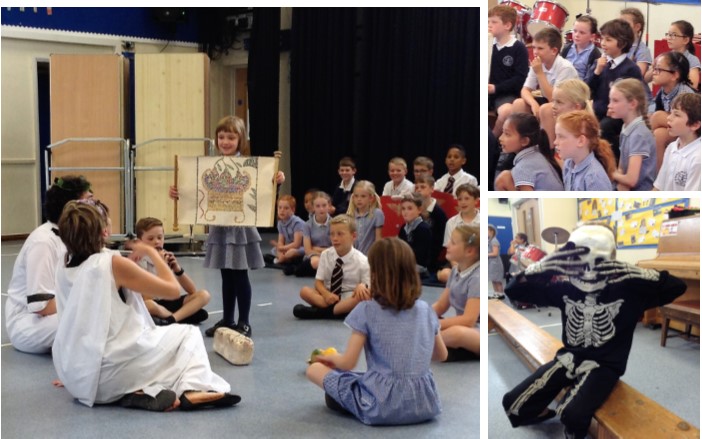 Roman rule over courageous Celts
After intensive training, the Roman legions crossed the channel to land in Shoreham. They were met with fearless Celts, armed with swords and spears. However, Claudius' organisation won out and Romans began their 357 year stay in England. Good fight!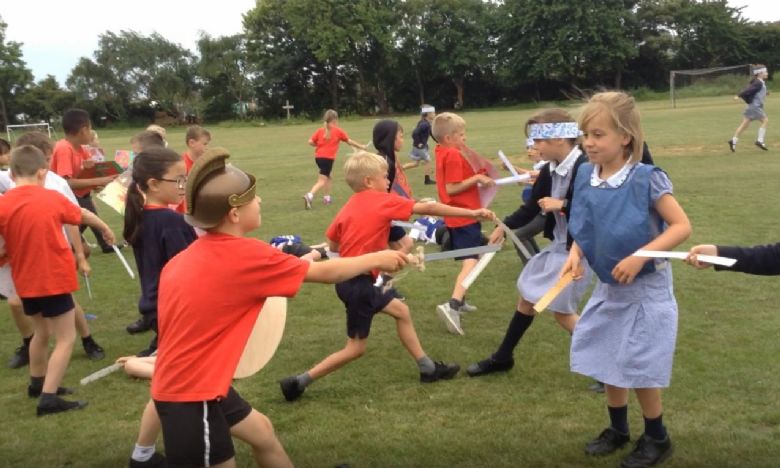 When in Rome
This week, we have been exploring poetry, looking at rhythm, rhyme and tone. We've reviewed other people's poems and written some brilliant battle poems. At the end of the week, we had a workshop to write our own verses for a Roman song, which we then recorded. Sing along with the lyrics below!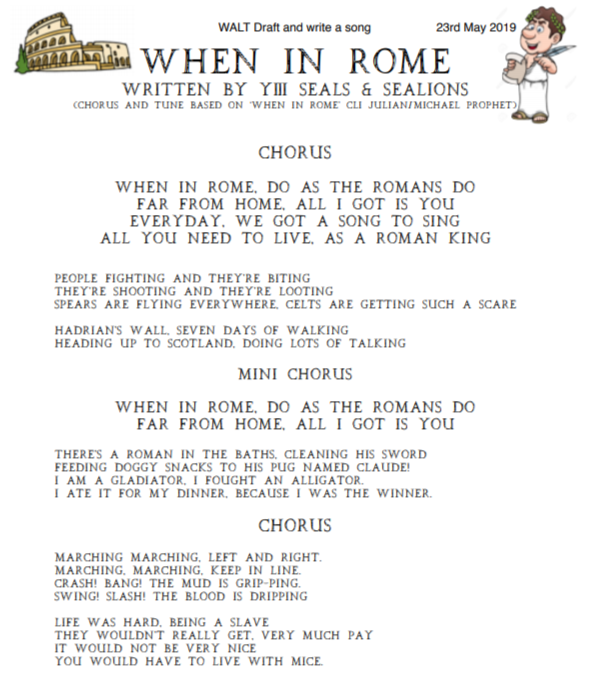 Year 3 Inter House Rounders Tournament
Year 3 made the most of a sunny afternoon and their excellent student teacher, Mr Cusack, and staged an inter-house rounders tournament. There was some great sportsmanship on display and all of our big hitters showed up when it counted! Congratulations to Blue House, who showed determination and stamina to win both of their games.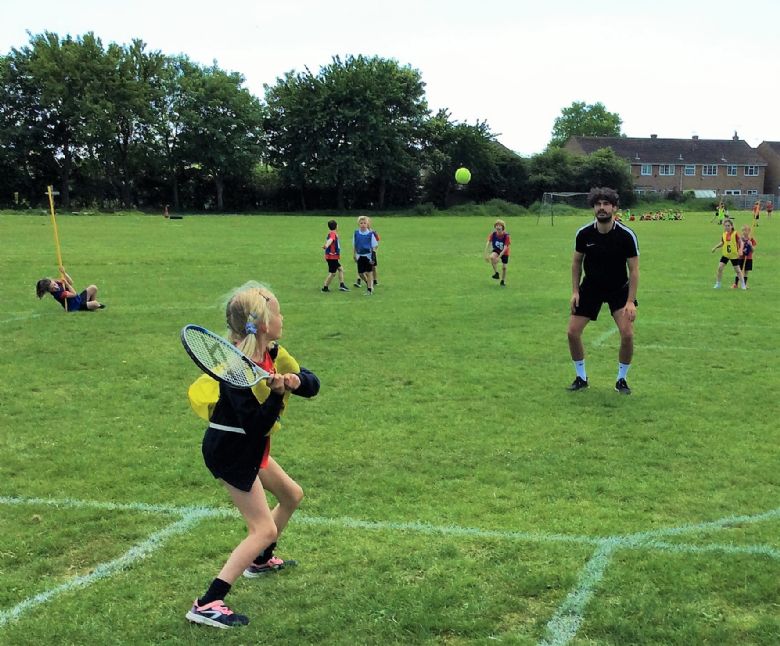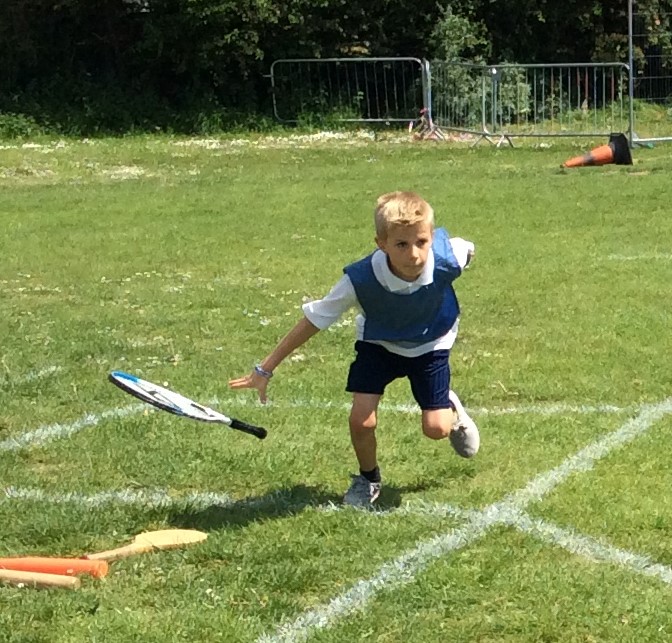 Celtic Roundhouse
Year 3 worked as a team to build an authentic Celtic roundhouse on the field, using sticks, branches, leaves and mud. In the winter, Celts would sleep in the same round room as their pigs and chickens. Smelly!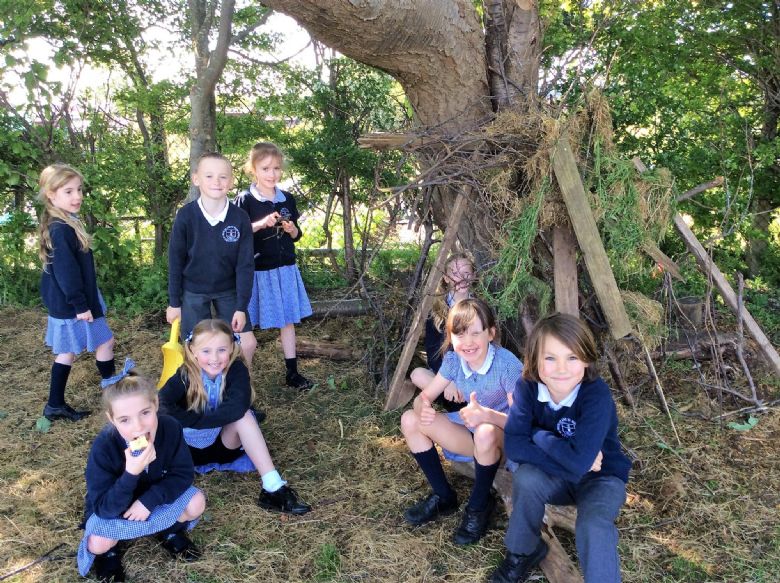 Challenge: Find out more about how the Celts lived.
Incredible Imperatives
PUT down your cup of tea. SPIN around three times. SHAKE off those cobwebs! We have been using imperative (bossy) verbs to write our own instructions. It was really fun making videos, instructing others to make their own pirate hat from newspaper. Arrr!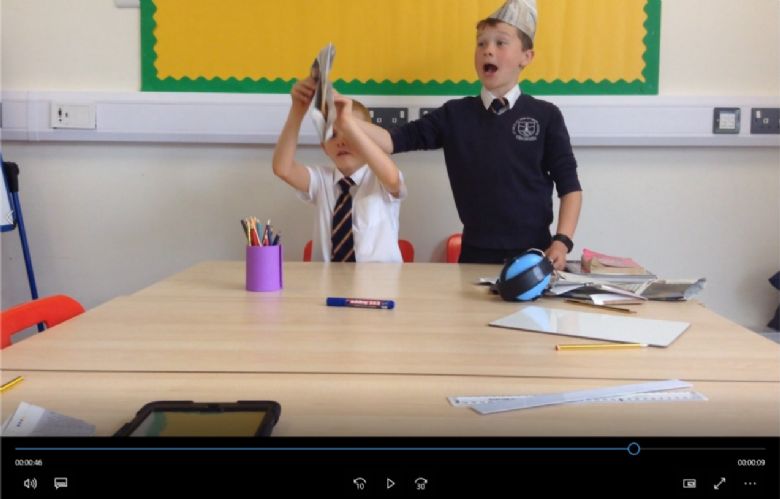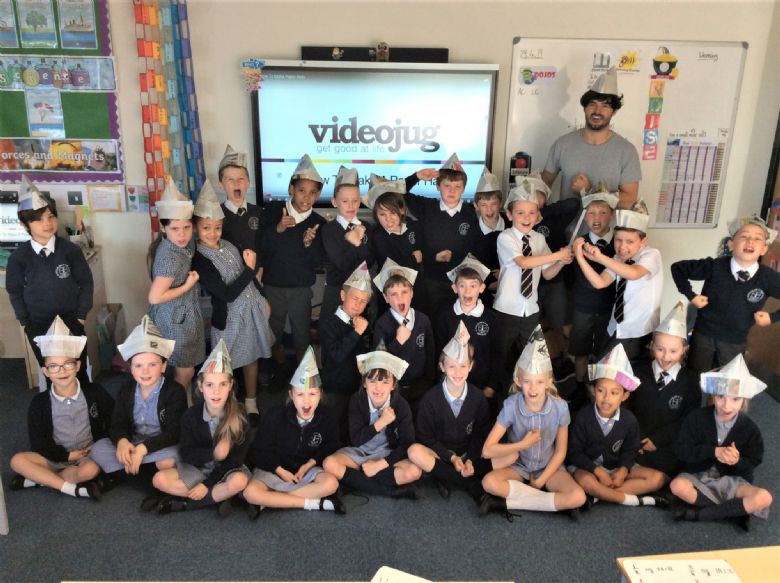 Challenge: Write instructions for something you do often e.g. brushing your teeth.
First Aid
Year 3 enjoyed learning first aid! We learnt what to do in an emergency and how to act if you find someone who is unresponsive. Remember - DRS ABC!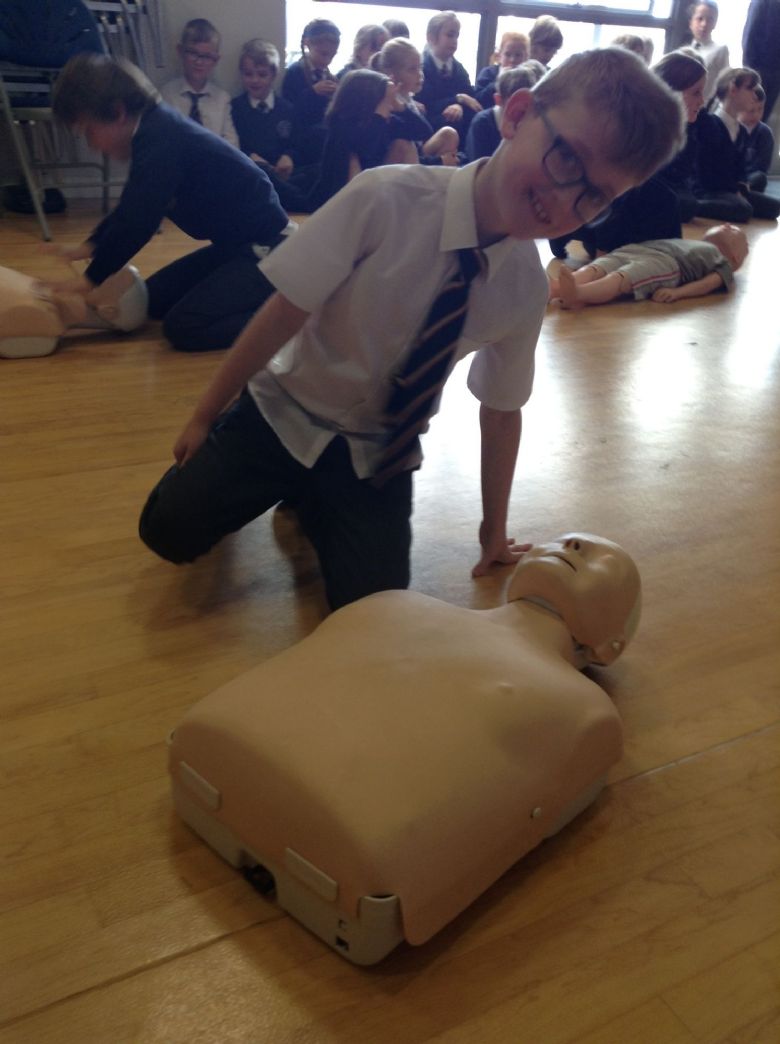 Outdoor times tables
Sea Lions soaked up the sun and took their times tables and spellings pitstops outside on the field. We got our best results as a class yet! To celebrate, everyone did a cartwheel at the same time.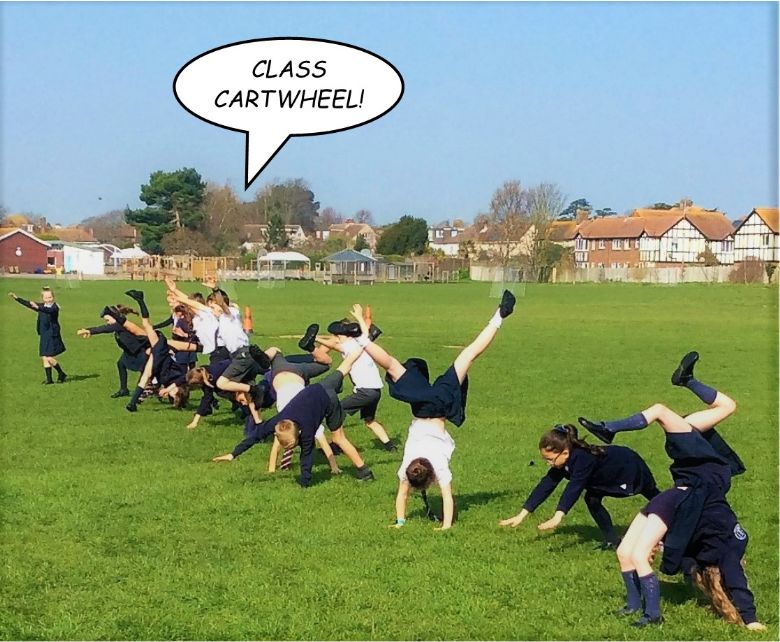 Challenge: Can you find a fun way to practise times tables in the great outdoors?
Super Smoothies
After lots of planning and designing, Year 3 were delighted to create their own smoothies. Everybody had core ingredients and then added lots of extra exotic fruits. We weighed, measured, poured, sliced, blended and (best of all) TASTED! They were delicious. Well done Year 3!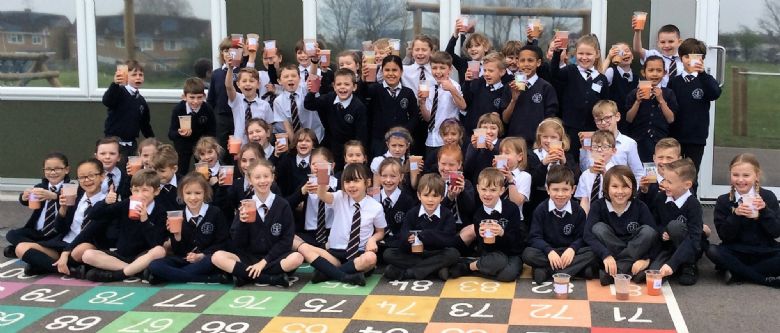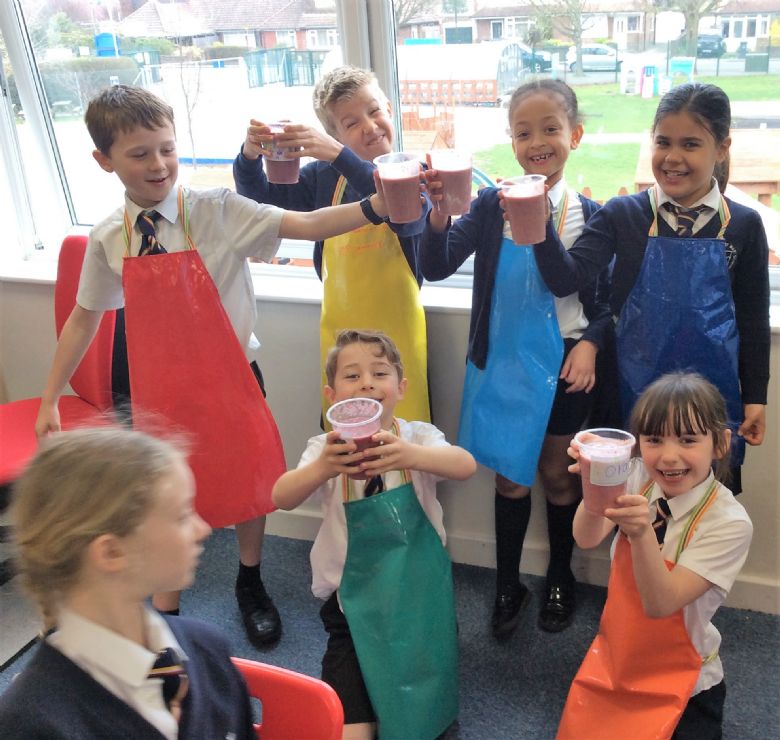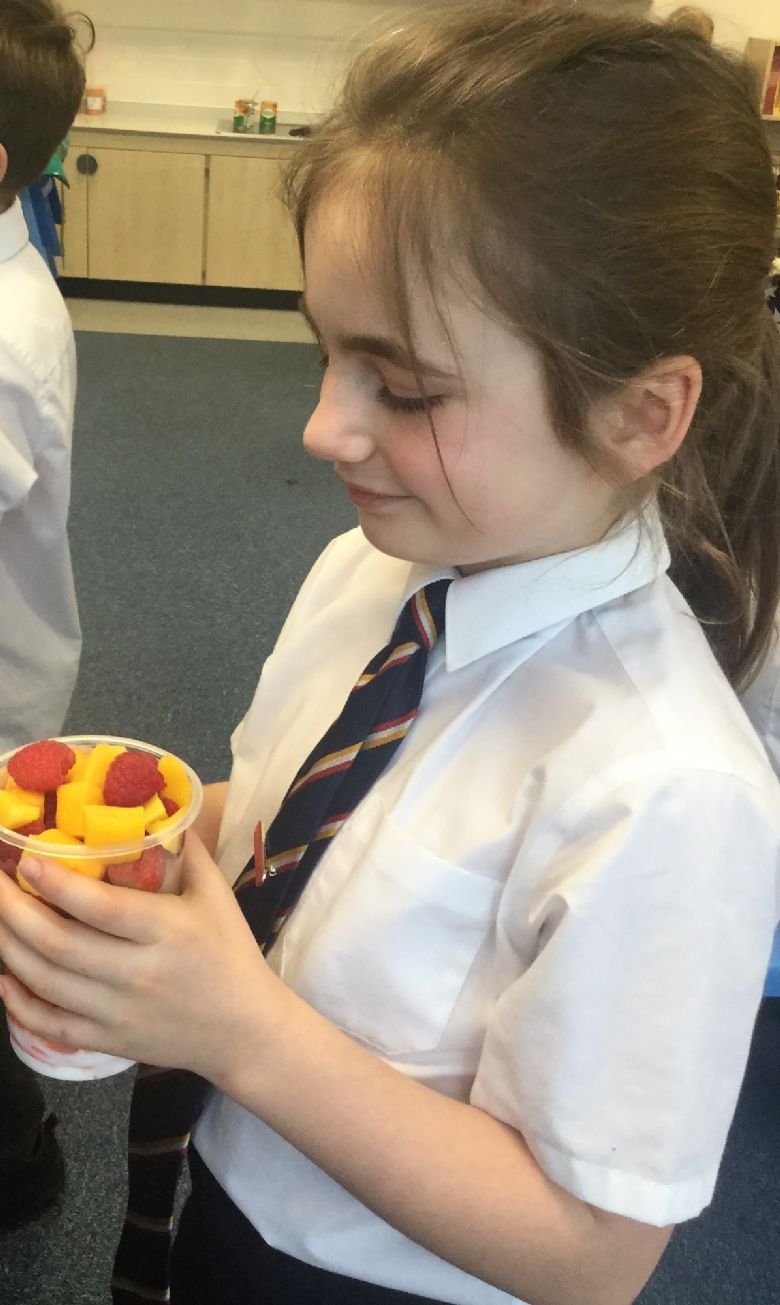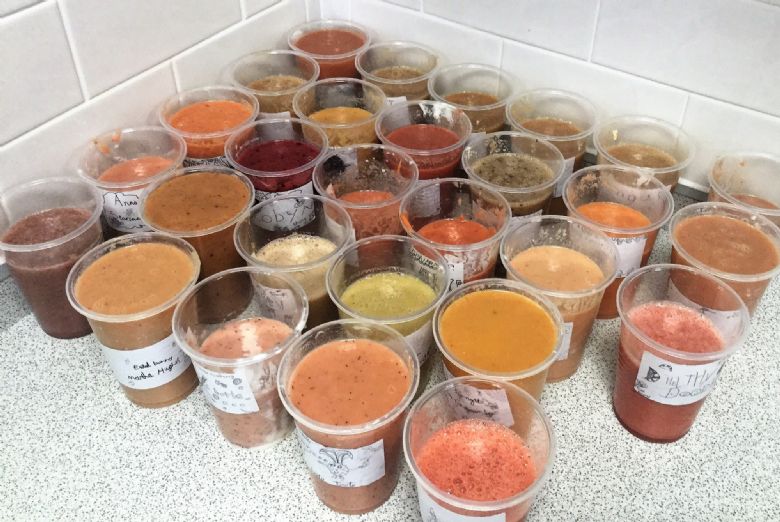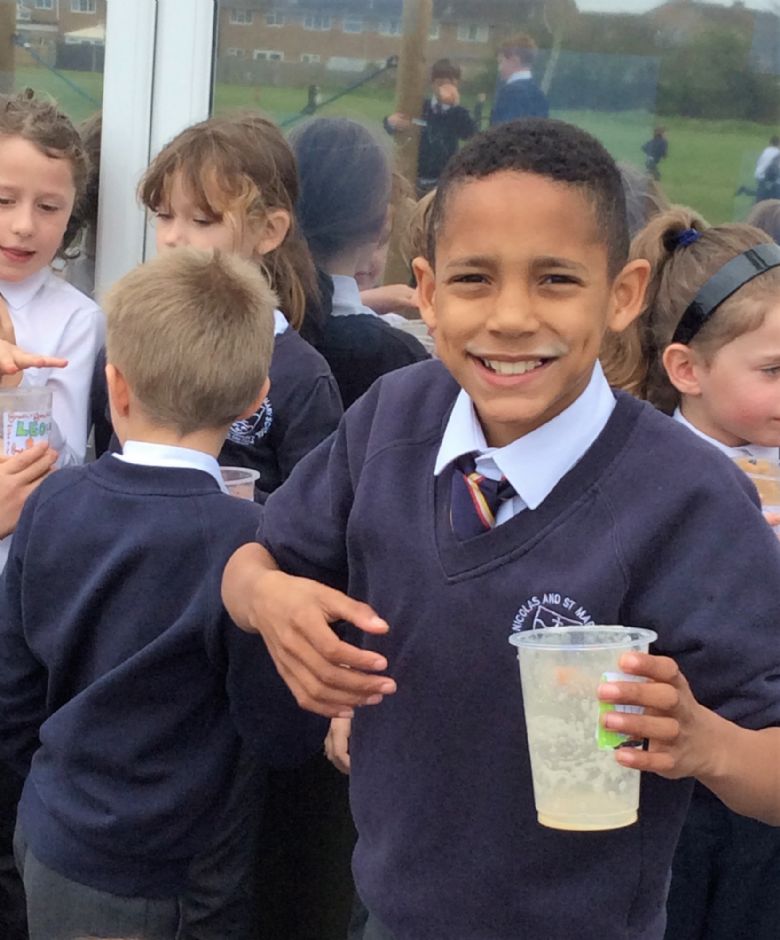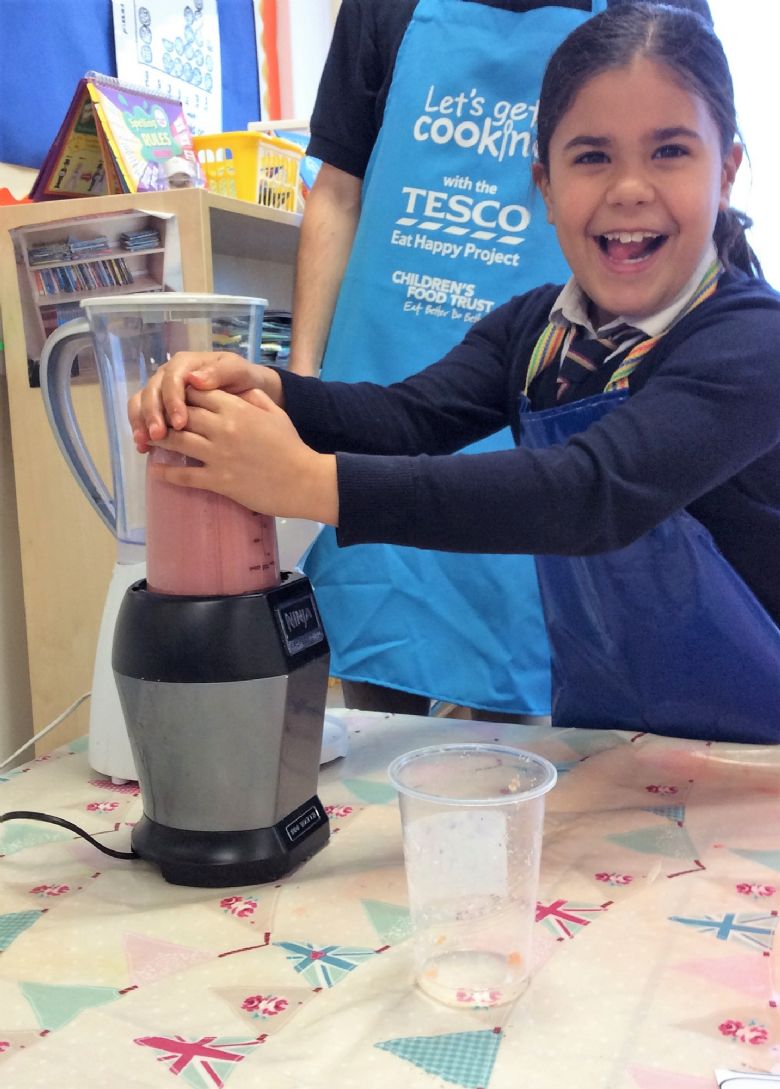 Rainforest Dance
In PE we have been choreographing a rainforest dance. We have shown different elements of the rainforest through movement, for example rainforest settlers and hunting.

Drusillas
Seals and Sealions really enjoyed our trip to Drusillas! We saw lots of animals and learnt which animals you might find in the rainforest.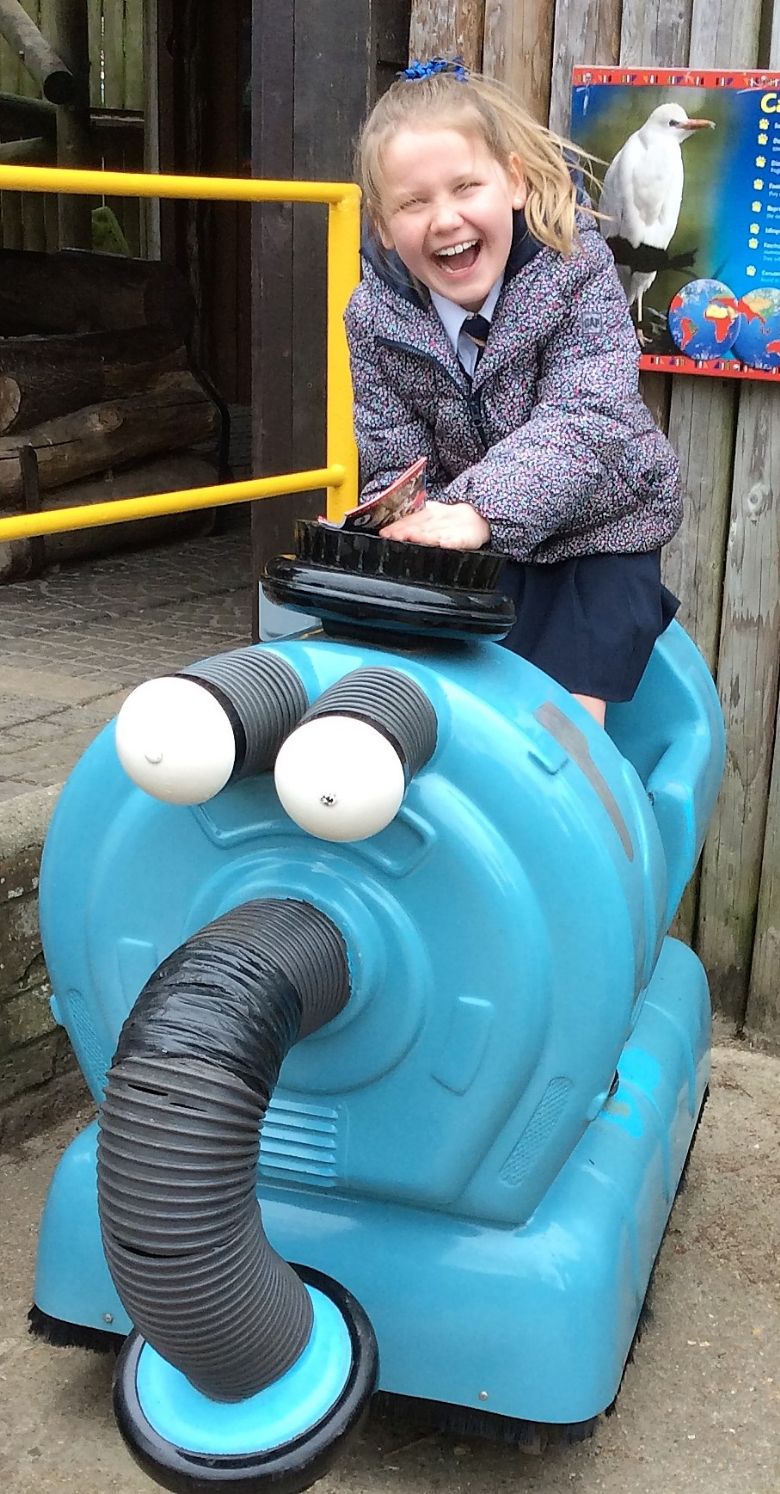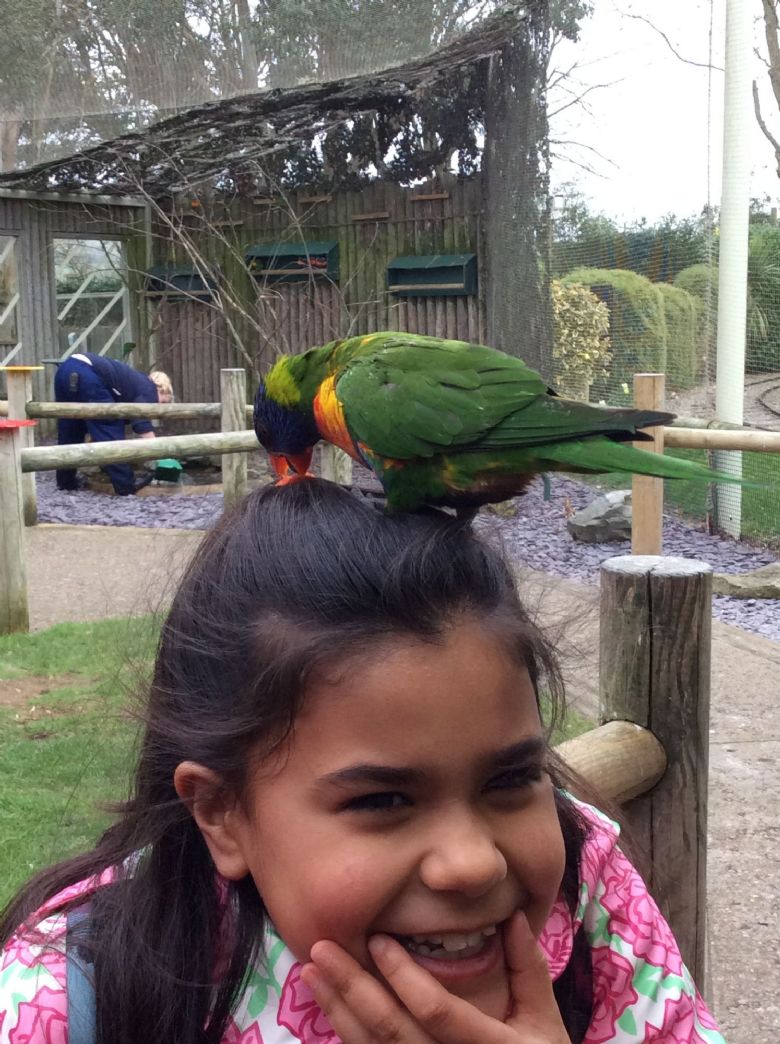 Tasty Product Testing in Design Technology!
We sampled a range of drinks to think about product design and what we liked (or not!) Some were sweet, some were sparkling, some were goopy, some were healthy. It made us think about what ingredients we liked, how expensive each drink was and who it was aimed at. Yum yum!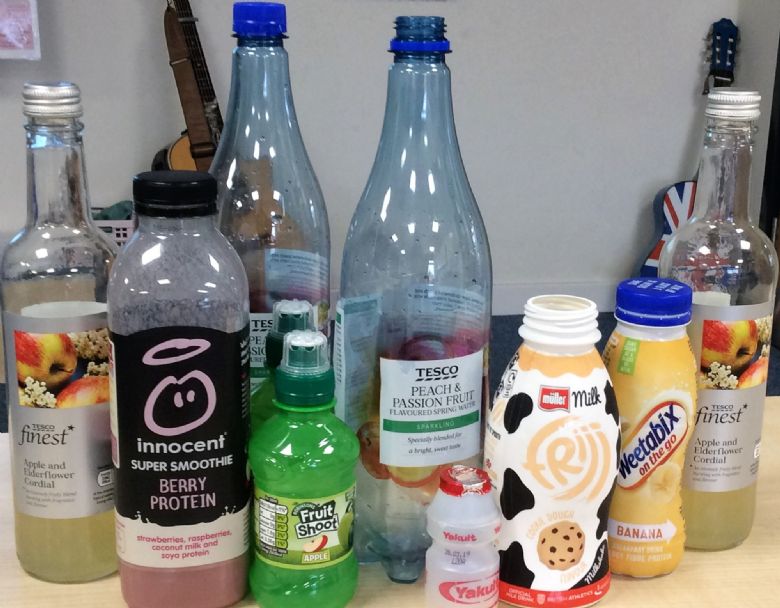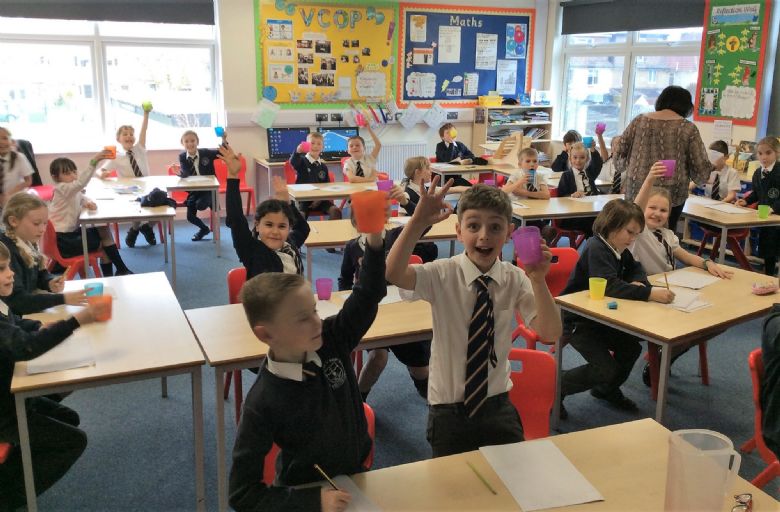 Challenge: Read the label on your next drink. What ingredients are in it? How much sugar is there?
Hindu Workshop
Year 3 really enjoyed the Hindu Workshop last Friday. The children learnt about Hindu weddings and celebrations and enjoyed role playing our very own wedding!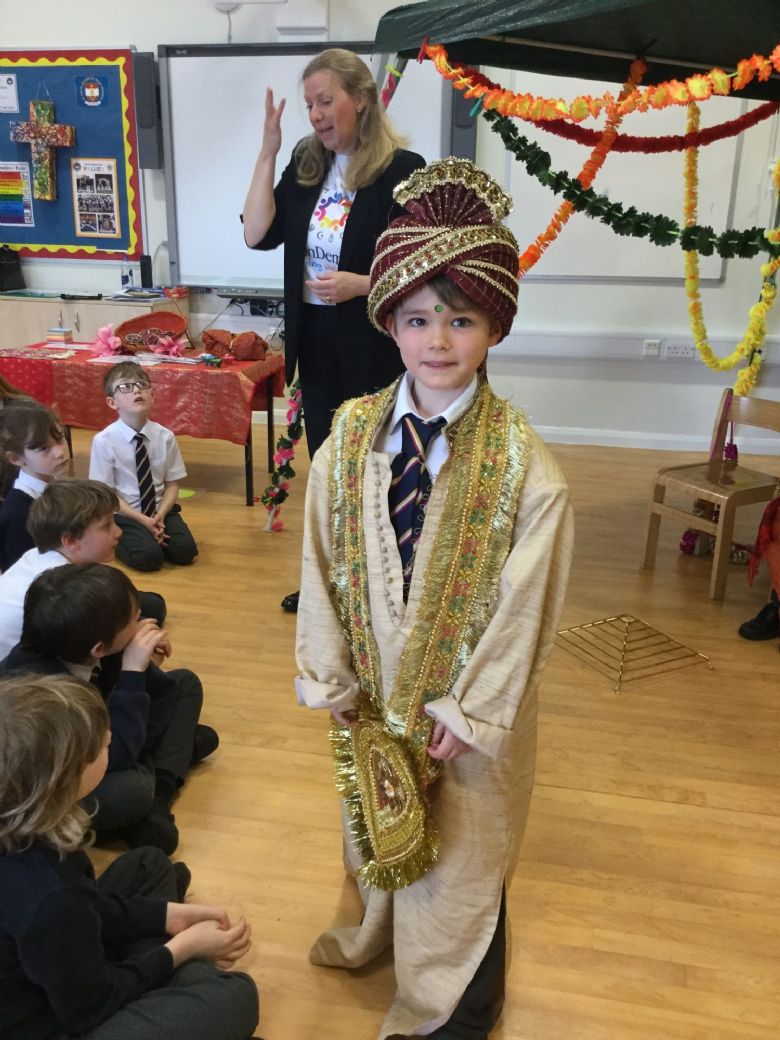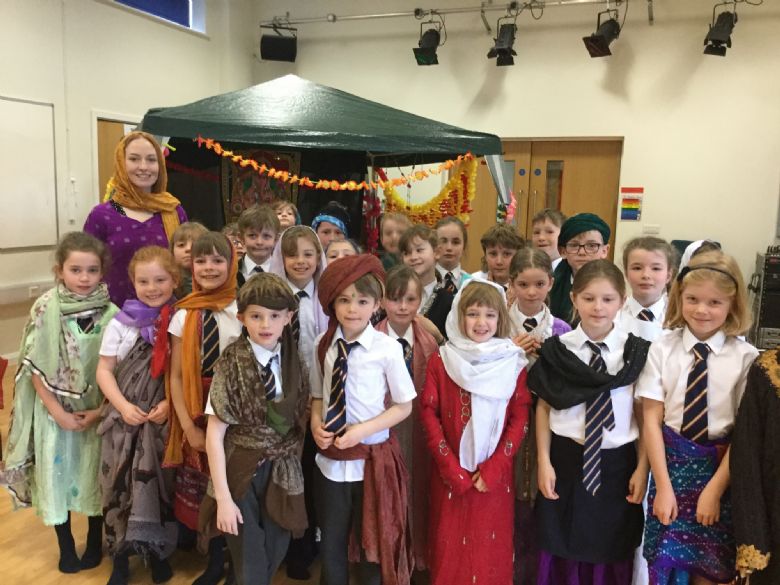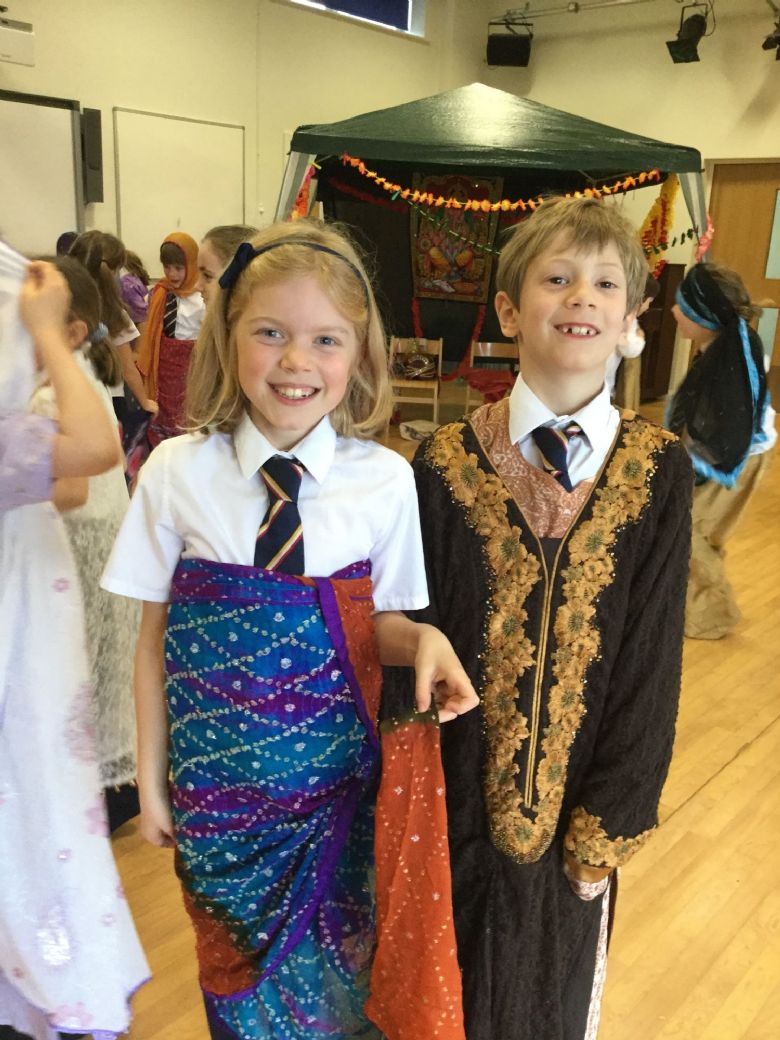 Reading with Blue and Gray Whales
Year 3 have really enjoyed our trips to Reception this week and we think Reception enjoyed it too! It made us think about using different voices to read, asking questions and enjoying all sorts of different books.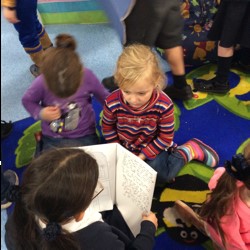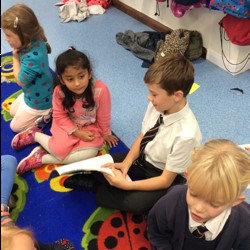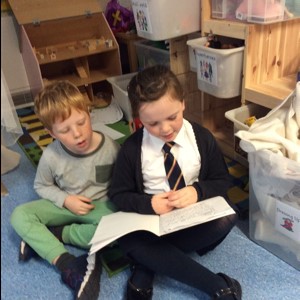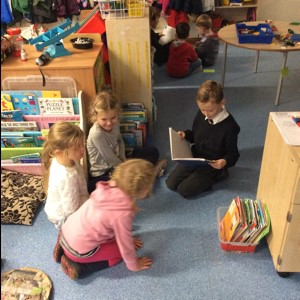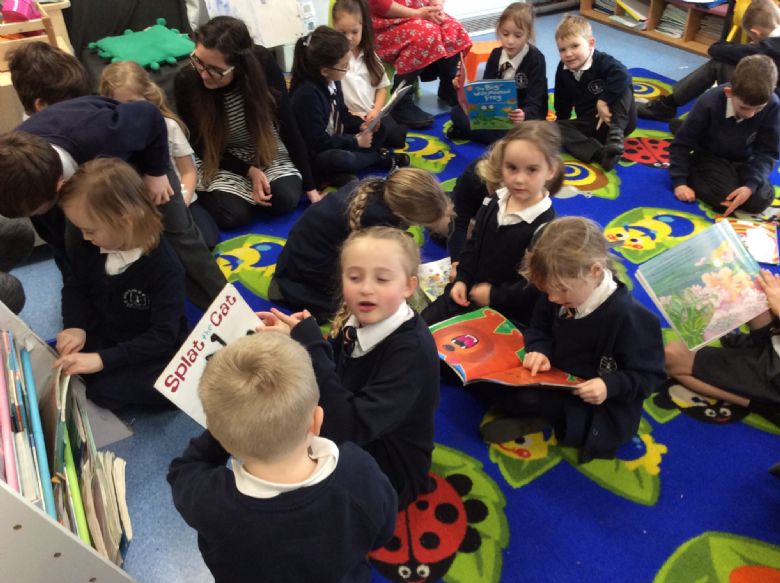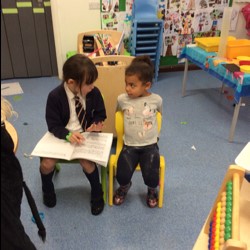 Challenge: can you read a story, a poem and a fact book this term? Do you remember your favourite books when YOU were in Reception?
Giant's Footprints
We saw a mysterious giant's footprint and tried to work out how tall they would be, using our measuring skills.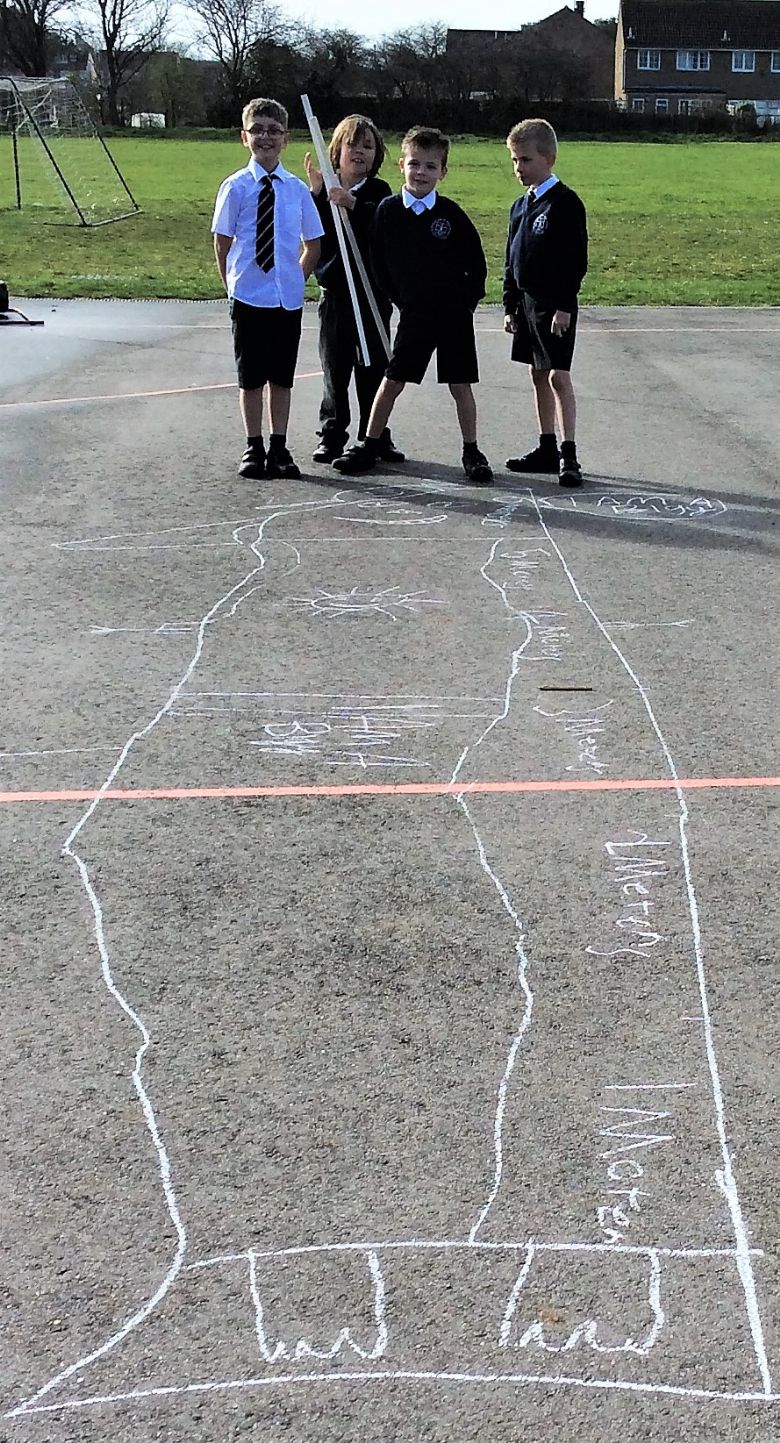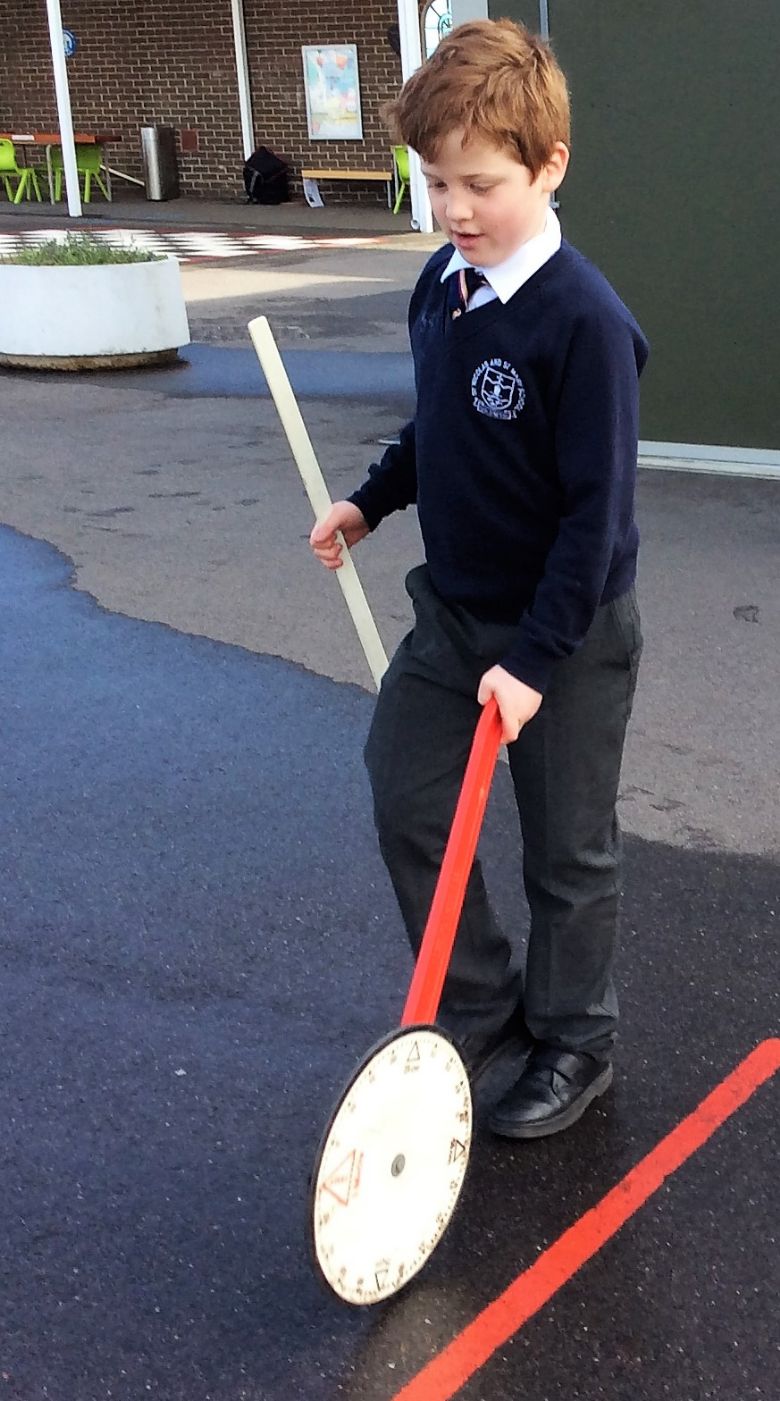 Challenge: If you know that the giant's footprint was 120cm, how tall do you think they would be? How could you work it out using YOUR foot length?
Magical measuring...
We have been thinking about volume and working as a team to collect correct amounts of water to fill a jug. We needed to be careful reading the scale as they went up in 10ml, 25ml and 50ml.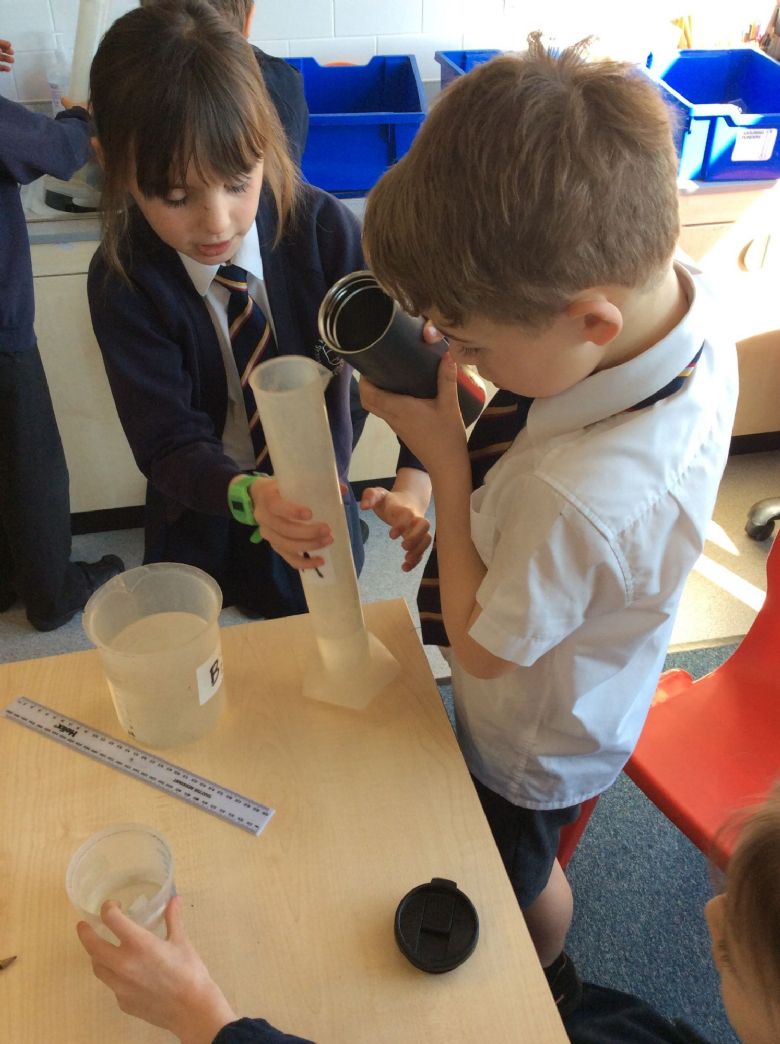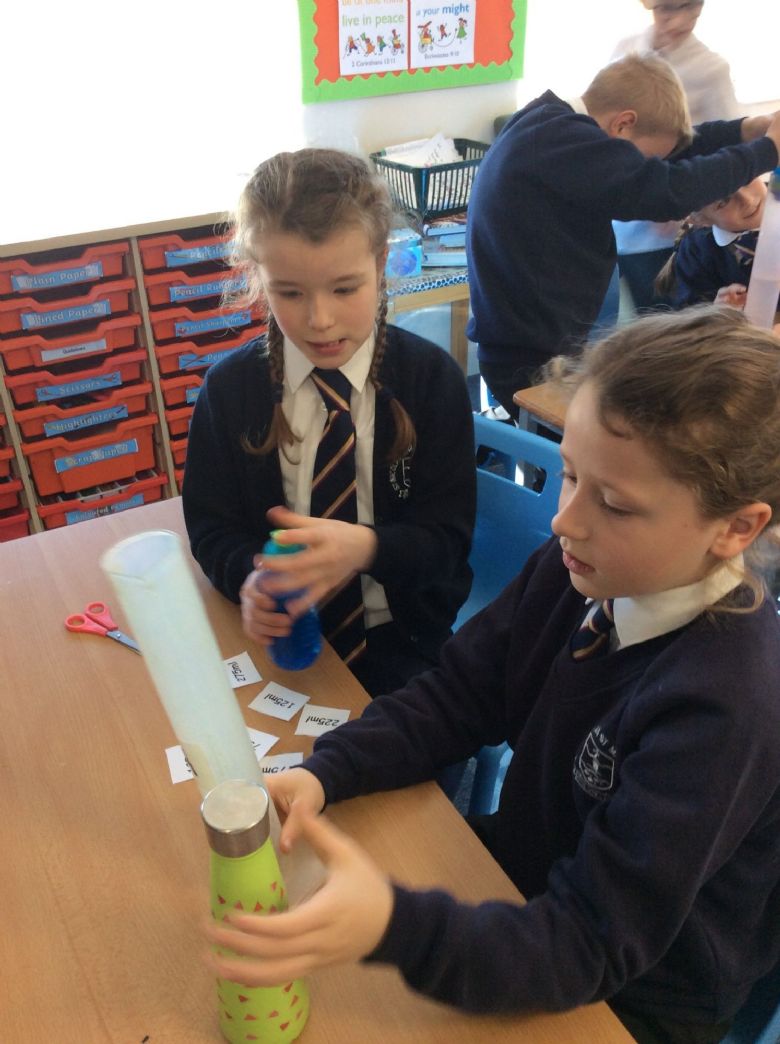 Challenge: Can you find out how many litres are in a megalitre?
Snow Day!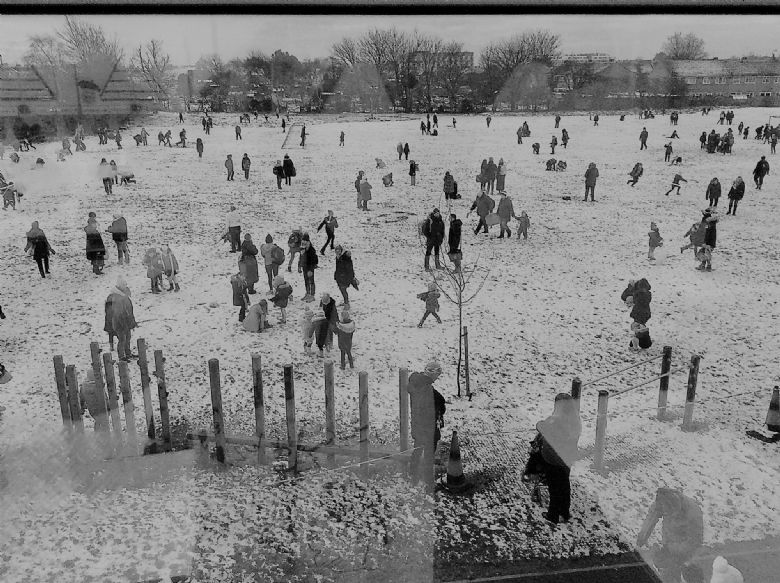 We enjoyed a very rare snow day last week. We also learned about the very different climate of the rainforests and made our own weather forecasts.
Challenge: Can you explain the difference between climate and weather? What is the climate like in a rainforest?
Meeting Alka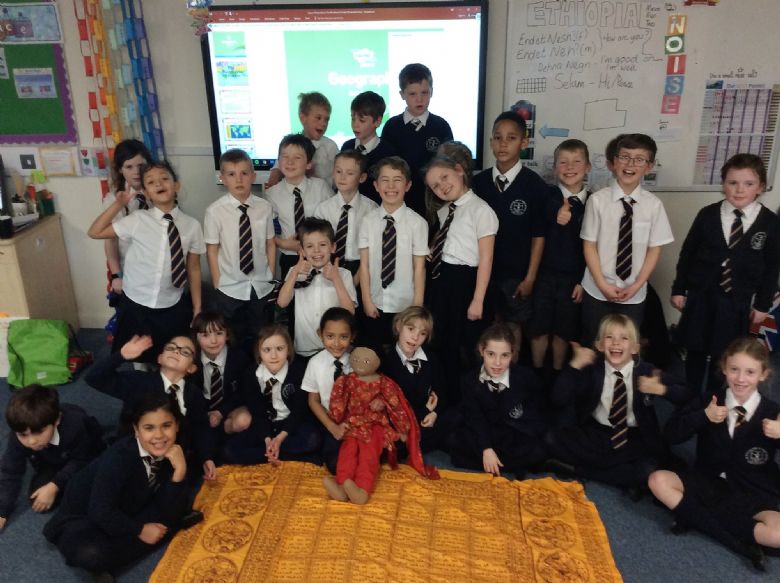 We met Alka, a 5 year old Hindu girl, and asked her some great questions about her life.
Can you think of some of the different ways people worship? Do you remember any facts about Hinduism?
Maths Challenge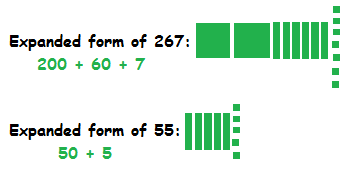 Explorer's Day
What a great start to 2019! We learned all about compasses and had a go at drawing our own on the playground. Spotting cities in the Atlas was fun but tricky. The morning ended with a trip to Argentina to listen to the tango and debate who really is the best, Messi or Maradona (Messi, of course!)

Challenge: Use a map to find 5 countries in South America
Merry Christmas Y3! Well done for all your hard work in 2018!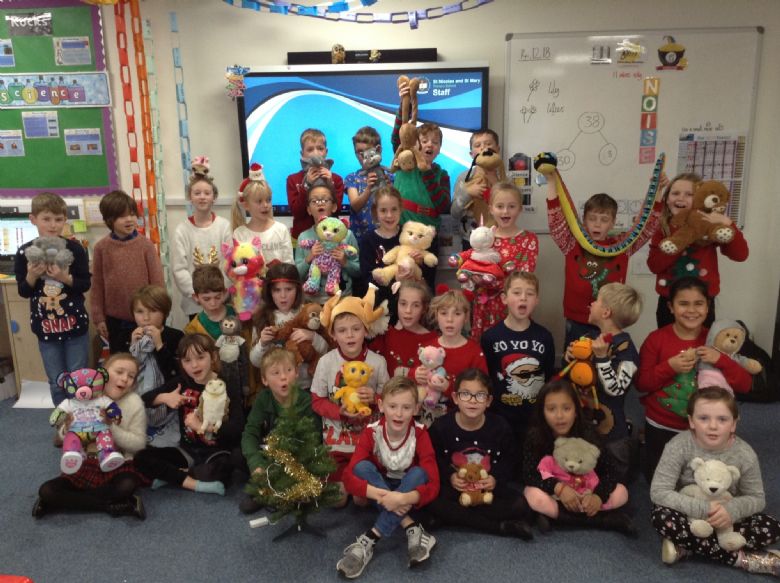 Mr Mac and all the grown up helpers in Sealions would like to say thank you for our lovely Christmas gifts - very thoughtful! We are sad to say goodbye to Isla and Cameron and wish them all the best in their new school. We hope that everyone enjoys a relaxing Christmas period and we look forward to lots more learning and fun in the new year. Feliz Navidad!

Well done Seals for making it through to Christmas! Enjoy your break and be ready for lots more fun learning in January!
Miss Such, Mrs Buck and the other adults in the Year 3 team would like to say a big thank you for all our lovely Christmas treats!
Reading with Gray Whales
We loved going to read our stories to Grey Whales class - they were good listeners and asked some interesting questions as well.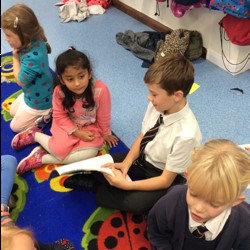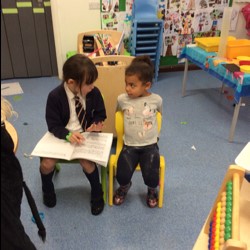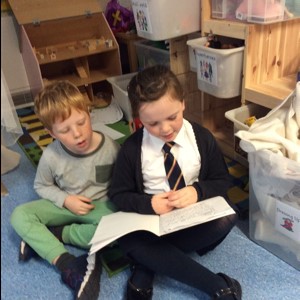 Dividing using arrays
Division and multiplication can be made easier when you draw an array. This week we've been solving problems using cubes and pictures.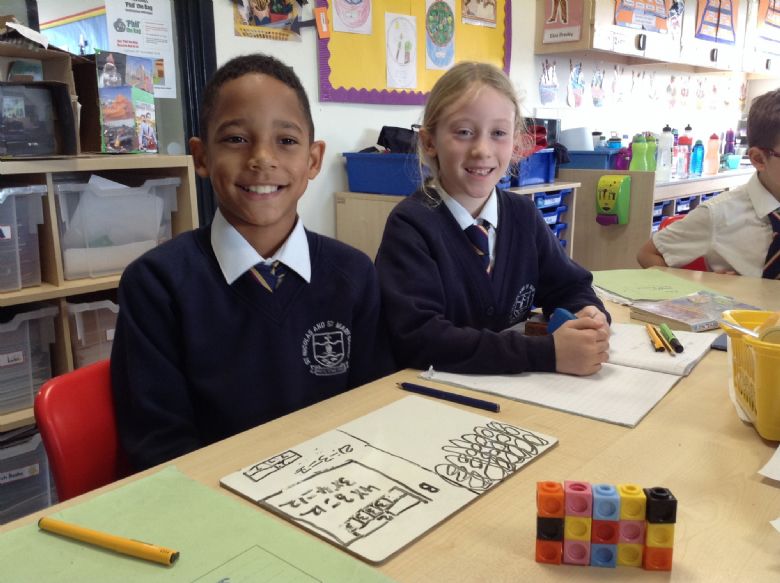 Challenge: What other division and multiplication sentences can you solve using the top hats array?
How to have GREAT playtimes...
We love playtimes and have been doing lots of work on how to make sure it stays that way. Please have a look at our guide on how to be nice, how to deal with a falling out and how to think about other's feelings.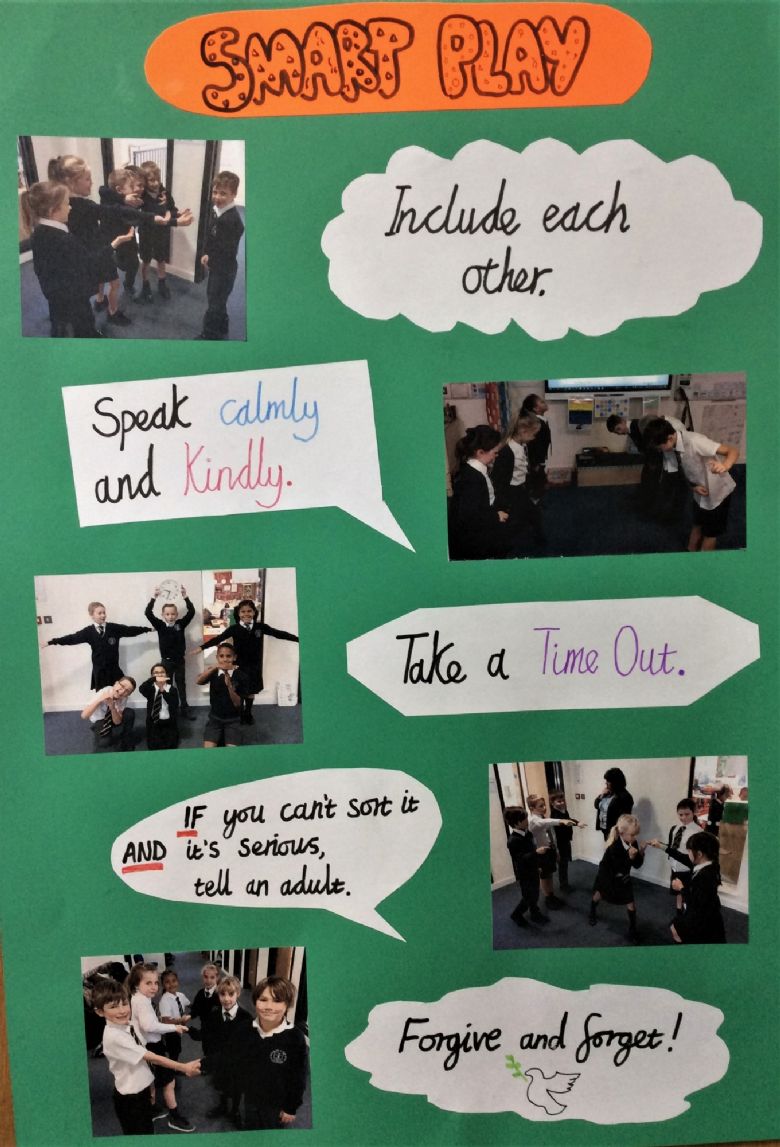 Challenge: The next time you have a challenging play, try and follow these steps!
Victorian School Day
Sea Lions had a shock on Monday morning as we went back in time to the Victorian days. Teachers became even stricter, learning was conducted in rows and Mr Etherton was enraged that children had been scrumping his apples. It was a relief to return to 2018 in the afternoon!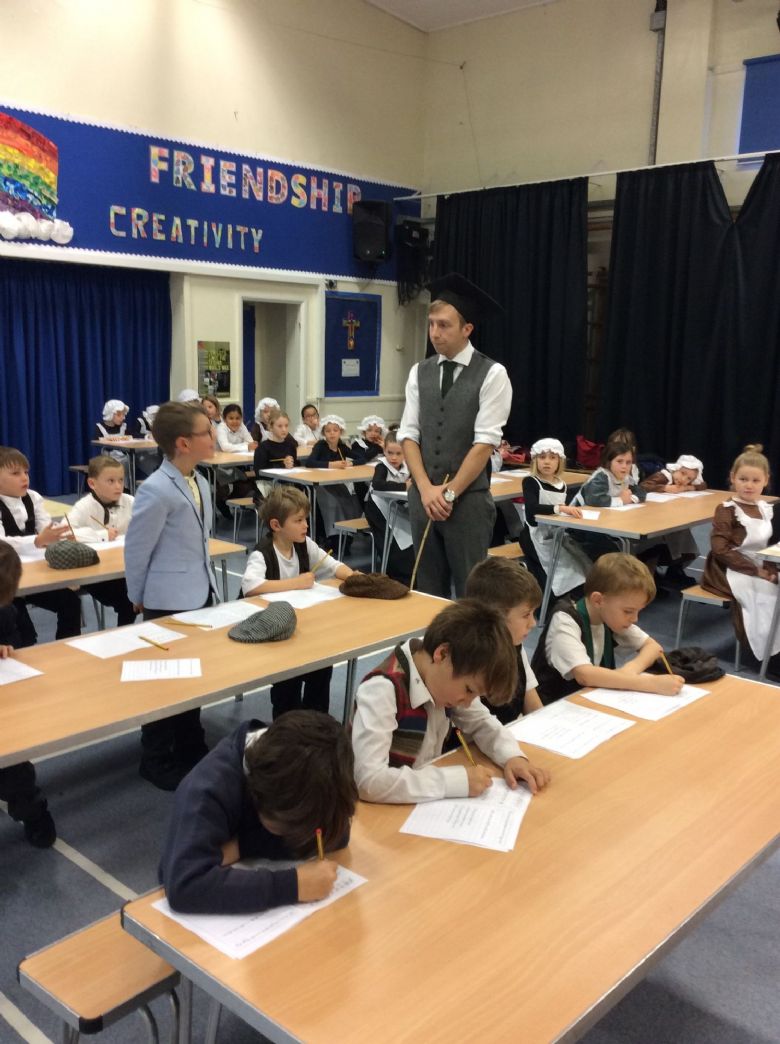 What did you think was different about Victorian school? What is better now?
No iPads here!
In our Topic lesson, we tested out some of the games that rich and poor Victorian children would have played. It was lots of fun!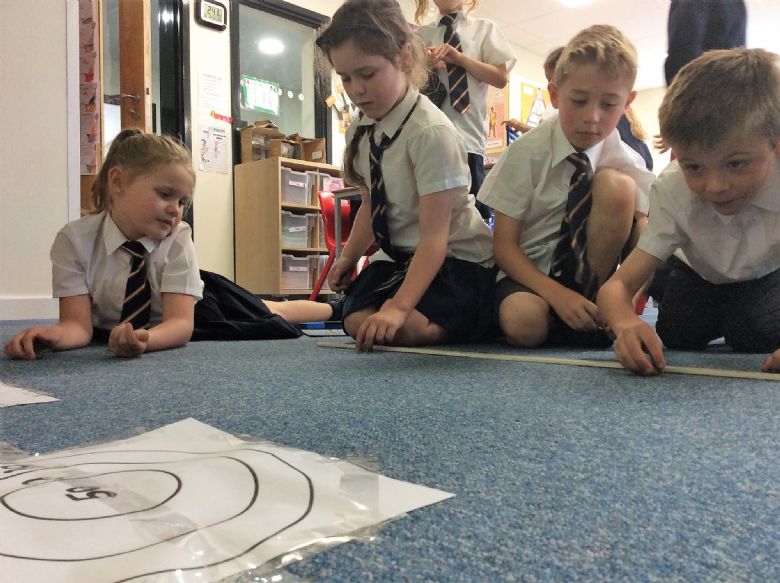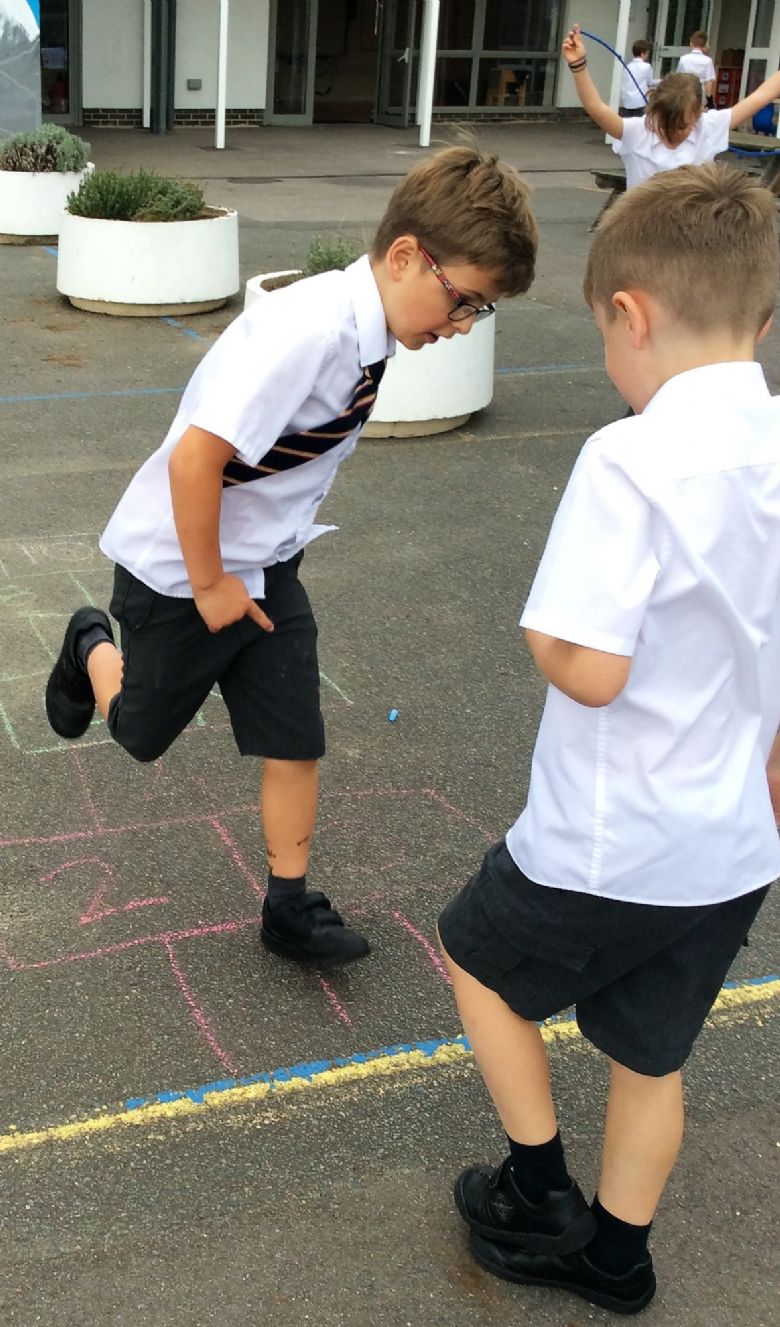 Challenge: Find three sports that became popular in the Victorian era (1837-1901)
Welcome to the world of work...
Today we made our way to the big house where we met Mrs Storey and Miss Rose, the head housekeepers of Preston Manor. They were very strict and showed us what duties we might expect if we were given a job. Year 3 worked hard all over the house, baking in the kitchen, cleaning the bedrooms and preparing the dining room for a feast. Congratulations to the new staff and well done all on an exciting day.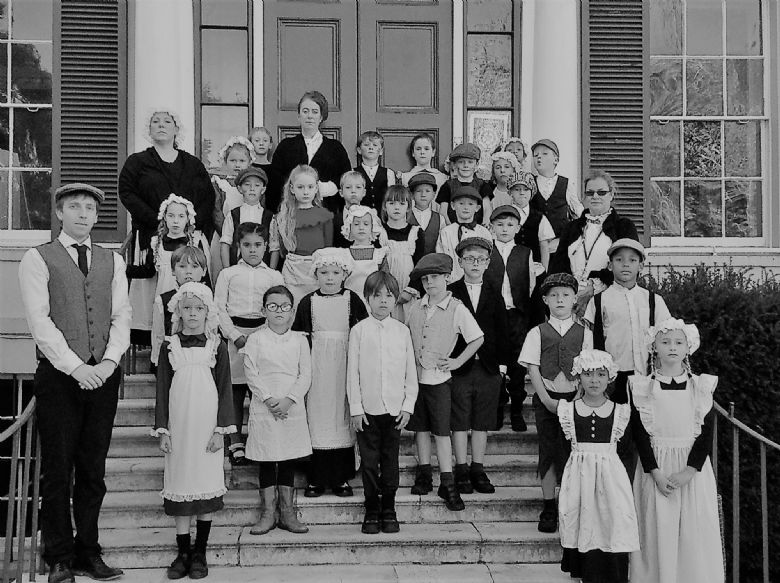 Challenge: What did Miss Rose use to clean the carpets?
Consider yourself...a servant in training
We've heard that Mr and Mrs Stanford are looking for new servants at Preston Manor, so the Sea Lions have been practising different servant roles to prepare for our trip next week. We polished off our Ps and Qs for the footman role, tidied and cleaned for the roles of kitchen maid and forth maid, and exercised to demonstrate our strength as Oddmen (general helpers). Would you hire us?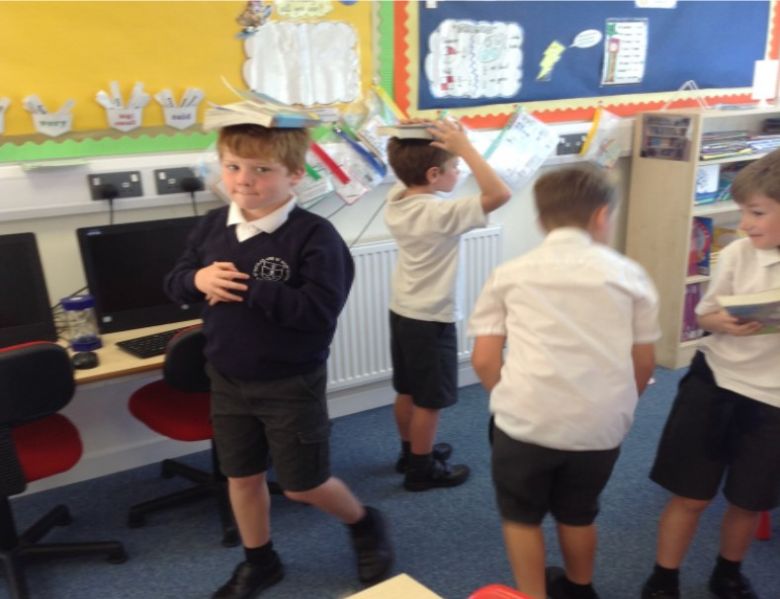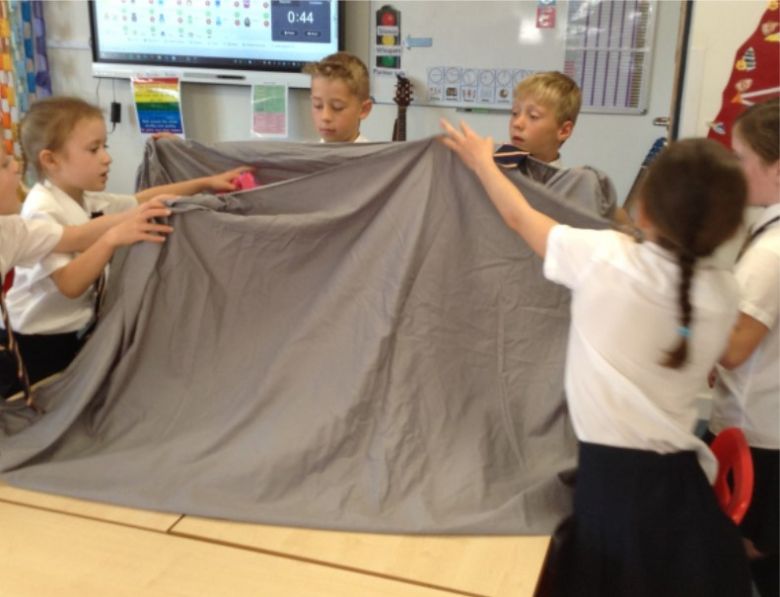 Challenge: Which role would you be best at? How much do you think you would be paid?
Balancing brilliance
This term, we are focussing on different balances in gymnastics, building up to our own sequences in pairs and groups. For our first solo lesson, we were pretty good!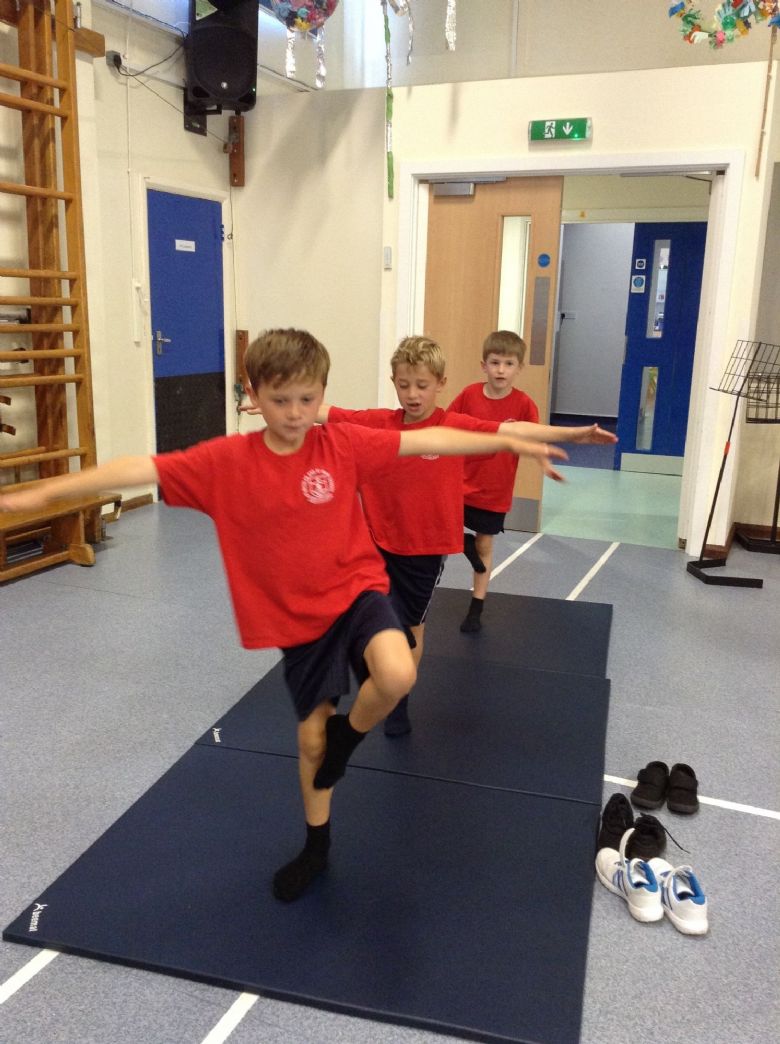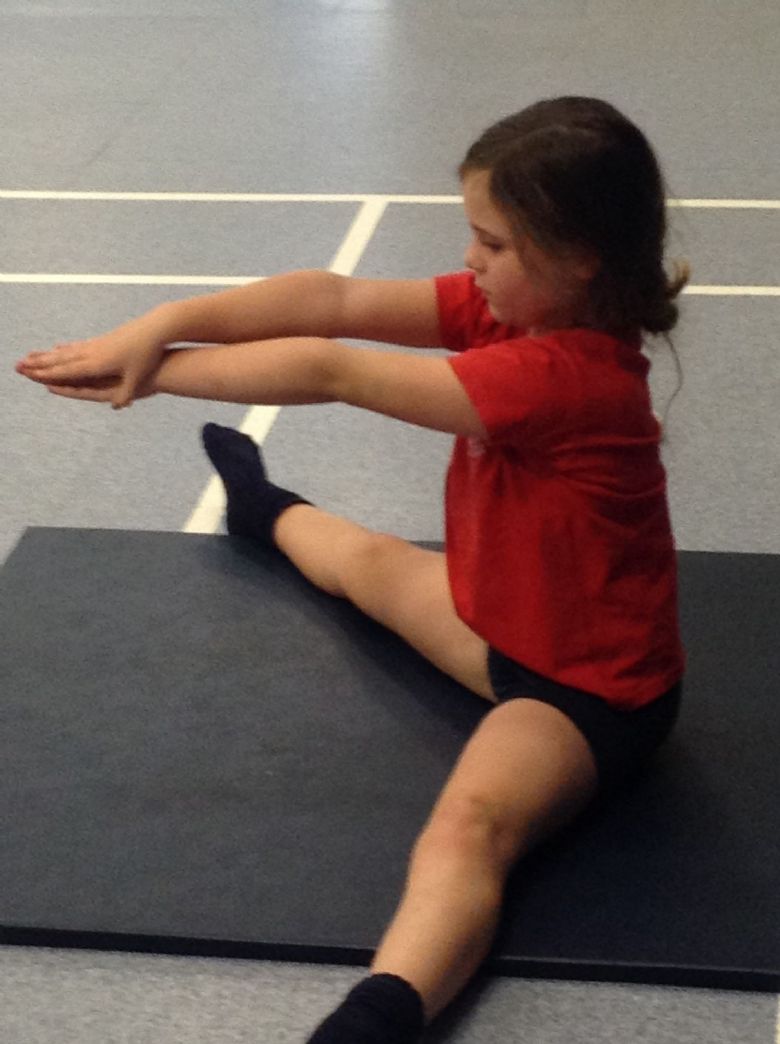 Challenge: Can you remember how to do a pike?
Welcome to Sea Lions!
Year 3 have made a great start to the term and are very excited with their new class. Use this webpage to download Home Learning each week and get ideas to help with your Spellings and Maths. In the near future we will also post some pictures of the exciting things we've been getting up to in Sea Lions class!
Sumatran Adventures: Our class mascot, Pablo has just returned from sunning himself in the Sumatran rainforests, where he tells us he enjoyed eating "tonnes of bananas" and "catching up with friends and family". For more information about Pablo's relatives, visit World Wild Life Orangutans
Will he be swinging his way to your home soon?