PTA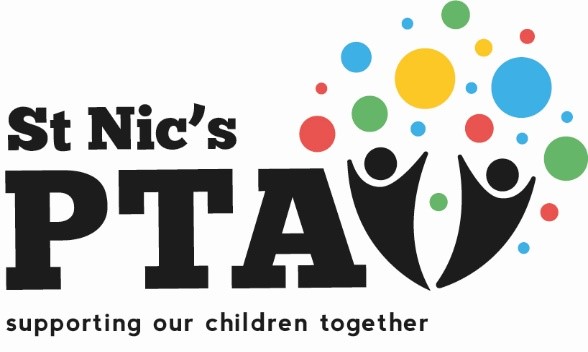 St Nicolas and St Mary CE School has an active Parent Teacher Association that plays an important role in the life of our school. The PTA aims to raise funds to support the school and provides a variety of social opportunities for the whole family. It regularly organises film shows, quiz nights, fun days and the fantastic Christmas and Summer Fayres. The PTA has its own facebook page where it posts news and messages. Do join it by following this link: PTA facebook page (you do need to be logged in to Facebook).
Gigi Backshall-Wilkinson and Claire Mulcare are Co-Chairs of the PTA and are supported by a Committee of dedicated parent volunteers. All parents and members of staff of the school are automatically members of the PTA and we encourage everyone to get involved in our events and activities. Please look out for invitations to their regular meetings in the weekly Parent Bulletin. Everyone is welcome.
Recycling
Everyone has done such an amazing job of keeping and sorting their lockdown recycling. Over the summer, £192.50 was paid out to the PTA from Terracycle for all our recycling to date. We hope to announce a new major recycling stream very soon! Please see the guides below about 'What goes in the bin?' and a more detailed 'New September 2020 recycling guide' which details specifically what items can and importantly, cannot be put in the bins.
New September 2020 Recycling Guide
Simple ways that you can help the PTA…
Volunteer! If every parent/carer helped at just one event every two years, we could easily run so many wonderful events- we always have many more ideas than we can physically put into action!
Use Amazon Smile when you shop: the PTA is registered to receive charitable donations through Amazon smile which will donate a percentage of the purchase price, on orders made with Amazon, to a charity of your choice. If you would like to support our PTA all you have to do is select "St Nicolas & St Mary Church of England School Parent Teacher Association" as your chosen charity on your Amazon account.
Donate through Direct Debit and Gift Aid. Would you miss £1 per month? If you feel you could donate regularly to the PTA please set up a direct debit to the PTA for just £1 per month or whatever you feel able to give. Also, complete a Gift Aid form if you are eligible, so that we can claim another 25p on every £1 of your contributions – click here for the form.
Buy your children's name tags & stickers from MyNameTags.com quoting the school ID 59580, or labelplanet.co.uk quoting school number 35375 – raise money with every order! Click here for MyNameTags flyer.