Reading
Early Readers
In Reception, Year 1 and 2 we use exciting Reading strategies including 'Our Reading Pathway' and 'Read Write Inc. Phonics' to help children become fantastic readers quickly. Below is some information regarding 'Our Reading Pathway.' For more information about 'Read, Write, Inc. Phonics', please see our phonics page in this link, https://www.stnicolasmary.w-sussex.sch.uk/page/?title=Phonics&pid=1340
Reading Pathway
This Pathway is about reading through a set of book bands. This banding system is nationally recognised system with books from a number of different publishers including The Oxford Reading Tree, Collins Big Cats, Project X, Rigby Star and Pearson Story Worlds.
The books children read will vary in a number of different ways, including layout, size, vocabulary and length to give the children a rich diet of literature. The difference between each colour band is very gradual, so that children do not experience difficulty moving up through the bands.
Below is a chart that shows which book bands children (working at the expected level) will be reading in each year group. Please remember, however that children learn in different ways and make progress at different times. It is possible that some Year 2 children will be reading red books and some Reception children reading green books. As a rough guide, children are expected to reach the highest level (lime) by the end of KS1. Children should be able to read at least 90% of the words on the page to be within the book band. However, sometimes a teacher might keep the child on the book band level for longer to ensure the children comprehends what they are reading so they remain motivated to read.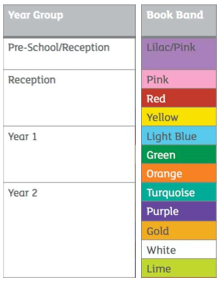 Above lime, the band will be called 'Rainbow.'
Journeying through the book bands is not a race. It is important that we instil a love of reading for the children's enjoyment and understanding so we don't want children to find books too difficult.
The most important thing you can do is make the time to read with your child every day. As every child is an individual, choose a time and place that best suits them. We will be sending books home so you can hear your child read. The book will be in your child's specific book band. In addition to this, your child may bring a Read, Write Inc Book home too. For more information about this, please see our phonics page in the link above.
Enjoy reading with your child and help them become lifelong readers.
Reading VIPERS
To support our children in the comprehension of texts, we use the following characters and acronyms to develop reading skills.
VIPERS are consistently used in years 1– 6 and provide a great way for the children to focus and reflect on specific reading skills that they are being taught. The key VIPERS skills are: vocabulary, inference, prediction, explain, retrieve and summarise.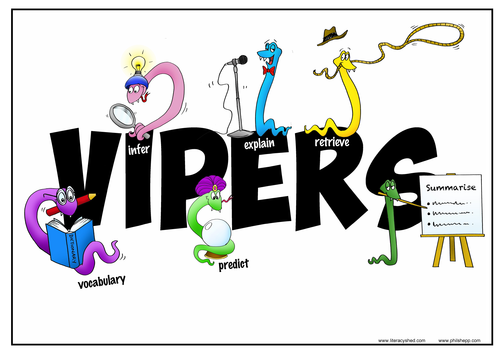 Accelerated Reader
What is Accelerated Reader?
AR is a computer program that helps teachers manage and monitor children's independent reading practice. Your child picks a book at his or her own level and reads it at their own pace. When finished, your child takes a short quiz on the computer to check they have understood what they are reading. The scheme is designed to engage and motivate children to read, as they build up points and earn rewards.
Who is taking part?
All children in Key Stage 2 and some children in Year 2 are participating in Accelerated Reader.
How is the book level assigned?
The children take a quiz on the computer to help assess their reading and comprehension skills. We use this along with teacher assessment to assign the children a book level which will help them to choose books which are challenging without being frustrating. The reading levels will be regularly reviewed to ensure the children continue to be challenged and engaged.
What is the target?
The children earn points each time they read a book and then take a quiz based on the book. Their target is based on the number of points we want them to earn in order to get a prize. Mrs Kennard is going to be organising some exciting prizes for the children such as a 'Pizza Party'.
How can I help support my child?
Encourage your child to read at home most days and enjoy sharing books and talking about what you are reading together. You can also find out about other books that are covered by AR which your child might like to get out of the public library by going to www.arbookfind.co.uk
Should my child only read AR books?
Absolutely not. We want to encourage children to read whatever engages and motivates them, whether that is the football program, magazines or books you have at home and these can be read alongside your child's AR book. You may find many of your books at home are actually AR books which they can take a quiz on at school. We do ask that children only take quizzes on books they have read recently.
How can I find out more about AR?
Do click on the presentation below for further information - it may answer some of your queries. Alternatively, catch your child's teacher or get in touch with Mrs V Bishop or Mrs Kennard through the school office by phone or email, and we will be happy to discuss this further.