Sports News
At St Nic's we take part in many sporting events throughout the year. We love to share with parents and carers how the teams have got on and will put news of these on this page.
In the last year, sport came to a sudden end in March with the lockdown. It was a great shame as we had 4 teams in area finals. However, absence did not stop the children from competing and our children set about the challenges in the Southern area Virtual School Games. After leading for much of the summer term, in an exciting conclusion, the children came 2nd in Shoreham schools league. Well done for competing at home in a safe environment.
2020 - 2021
Shoreham Schools Virtual Challenges
With the start of a new school year, inter-school sport has not been possible. However, sport is and we have participated in the Shoreham Schools Virtual Challenges. Each school has challenged the other schools to a different task.
Challenge 3 - KS2 Relay with speed bounce was won by Chloe, Oscar, Edith and Elliott in year 6. Our KS2 team with Stanley,Summer, Rosco, Rose, came 2nd.
Challenge 1, set by Shoreham Academy, was in fitness and Challenge 2 set by Buckingham was in skills. We are thrilled that Rosco in year 2, was the fastest competitor in Shoreham.
To see the current challenges and the results, go to https://primarysport.shoreham-academy.org/
Marathon Kids
Last year, St Nicolas & St Mary introduced the Marathon Kids programme. Marathon Kids gives children the opportunity to run or walk multiple marathons over the school year.
It's all about children working towards their own personal goals rather than it being a competition. Running a marathon is recognised by everyone as a massive achievement and Marathon Kids breaks this down in a way that makes it possible for everyone. Children run/walk laps of the playground/field during lunchtime, break and PE lessons. Children are inspired to run/walk multiple marathons over the school year and all of their personal achievements are celebrated.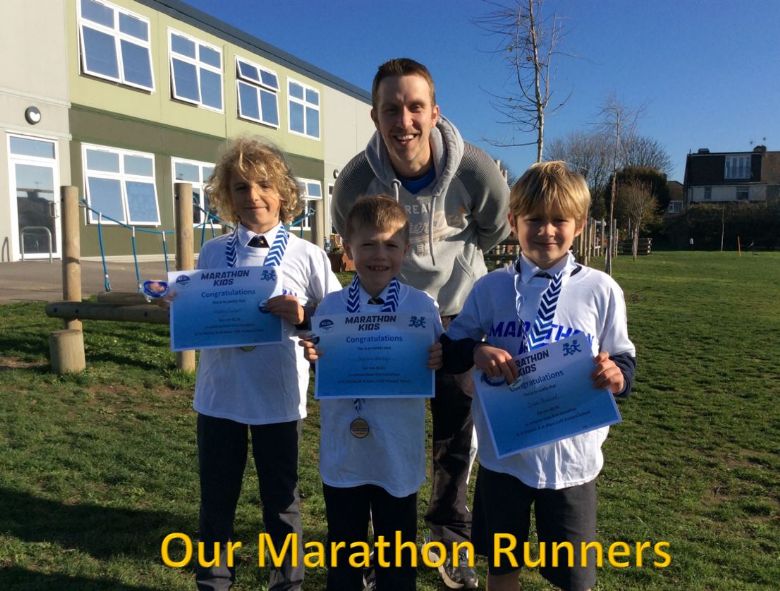 In the first 5 weeks this term, 3 boys in year 4 Seahorse class have run over 42.7k - the equivalent of a marathon. In our Marathon Kids scheme, Dominic, Huxley and Isaac not only ran during every session, they often ran 5k or 20 laps of the field during their lunch break. Mr Lincoln awarded them their medal, t shirt, badge and certificate this week, all courtesy of our PTA. They are now well on their way to their next marathon.