Useful Home Learning Links and Resources
SEE THE NEW FUN SUMMER HOME LEARNING PAGE FOR A SPECIAL VIDEO WITH TEACHERS TALKING ABOUT FUN ACTIVITIES TO TRY OVER THE SUMMER AND LOTS OF USEFUL LINKS AND TIPS!
Awesome Assembly - 16th June 2020 - Big Question on Hope during Lockdown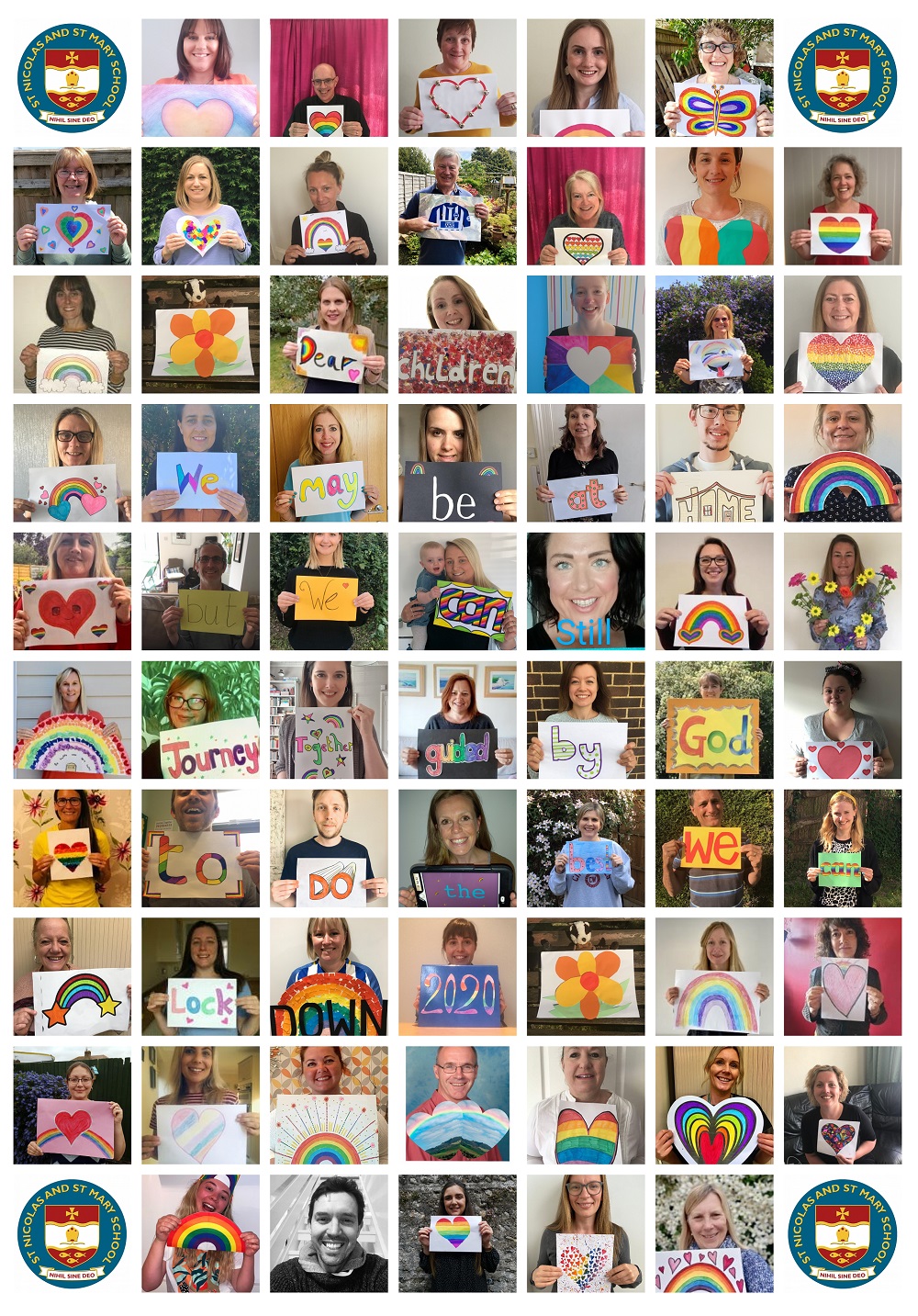 We hope you like our poster - can you read the message?
Here are some useful links to additional resources - don't forget to check your child's class pages and the maths and literacy resources. On the right are pages of resources for specific subjects and below there is more general information.
Time Capsule
Click here on this link so you can have a go at making your own time capsule!
West Sussex Useful Guidance and Website Links
Learning during Covid19 - Guidance for Parents.pdf
The coronavirus - helping your children to understand
Dave the Dog - a Nurse Dotty story about Dave the Dog who is worried about the coronavirus.
Superhero Story - how our children can be superheros!
A pdf that makes coronavirus more understandable and less scary for children: http://www.millfields.hackney.sch.uk/uploads/2019/Corona%20Virus%20Info%20for%20Young%20Children.pdf.pdf
Online Activity
Online activity in houses may be increased at this time and it is so important that all young people remember their digital citizenship responsibilities to look after themselves and others both online and offline. The DfE have advised: Parents and carers may choose to supplement the school or college online offer with support from online companies and in some cases individual tutors. (We would therefore like to) emphasise the importance of securing online support from a reputable organisation/individual who can provide evidence that they are safe and can be trusted to have access to children. Support for parents and carers to keep their children safe online includes:
See our E-Safety page for more information: E-Safety page - click here
Tips on Home Learning
https://www.bbc.co.uk/teach/teach/teaching-from-home-advice-for-teachers-and-parents/zv6bbdm
University of Chichester free resource: A Parent's Guide to Promoting Early Learning and Development at Home (0-5 years) Supporting Families During the Coronavirus Pandemic'.
Home learning Packs
https://shop.scholastic.co.uk/homelearning
https://www.twinkl.co.uk/resources/extra-subjects-parents/school-closures-category-free-resources-parents/school-closures-free-resources-parents
https://www.booksfortopics.com/homebooks?utm_campaign=91b8033a-2701-4f95-aace-8d1e2ce95762&utm_source=so&utm_medium=mail&cid=e6a45587-74a4-4947-bf4f-4ab0992fc409
Competitions
​​​Essay Competition: The Queen's Commonwealth Essay Competition, the world's oldest international schools' writing competition, asks young writers to consider how the Commonwealth can address global challenges and work to create a better future for all its citizens. HRH The Duchess of Cornwall launched the 2020 Competition in New Zealand on the theme of Climate Action and the Commonwealth; drawing on the increasing youth movement across the Commonwealth and the ongoing climate crisis. Young people are called upon to use any form of creative writing to consider their position and power in bringing about change, and how the Commonwealth can be used as a tool for positive action (flyer with information) Full details are available on the RCS website. Entries will be accepted through the online platform until 30th June 2020.
Worthing Theatres and Museum story writing competition: Worthing Theatres are asking children to write short stories suggesting how the very mysterious Highdown Goblet came to be buried on the South Coast of England. The Highdown Goblet is one of Sussex's great archaeological mysteries! Made in Egypt, but with Greek writing and found buried on the Sussex coast with a possibly Germanic settler. No one knows! So WTM are asking children to get creative and write a short story explaining how the fragile glass goblet ended up there. Was it bought and sold many times over, stolen or given as a gift to a weary traveller, or maybe there was magic, aliens or time travellers involved? Let your imagination run wild and create the most unique and magical story you can, don't worry it doesn't have to be historically accurate! More details on the competition, Highdown Goblet and Highdown Hill can be found on their website at wtam.uk/stories/highdown-goblet-story/ Stories should be less than 500 words and winners will be selected from three age groups: 7 and under, 8-11, and 12-16. The closing date is Wednesday 3 June 2020 and winners will receive 4 tickets to the family show of their choice! Entries can be emailed to marketing@wtam.uk.
General
StarLine – helpline launched to support parents teaching their children at home: Star Academies has recently launched StarLine, a free national helpline to provide parents with home education advice while schools are partially closed. StarLine offers tips and techniques from qualified teachers, education and parenting experts, and suggests online resources to help their children learn at home. It covers all areas of the curriculum and all stages of education, as well as family wellbeing, children's behaviour, and SEND. The helpline is open Sunday–Friday and all calls are confidential – further details and contact information can be found on the StarLine website.
StarLine – weekly discussion programme: As well as supporting parents and carers via the telephone helpline, StarLine will also be broadcasting a weekly discussion programme to explore aspects of parenting, education and home learning. Each episode will provide simple and engaging ideas for home learning. StarLive will be broadcast live on YouTube every Wednesday morning at 8.30am and will finish before PE with Joe begins at 9am! StarLine YouTube channel
Perform at Home – online drama classes: https://www.perform.org.uk/classes-courses/perform-at-home. They are currently offering a FREE TRIAL SESSION for any interested child – they will be exploring Peter Pan with KS1 and The Greatest Showman with KS2. So far the feedback has been excellent and we've just opened more spaces. For further information, please call 0207 255 9120, email us on enquiries@perform.org.uk or go to www.perform.org.uk
Free audio books: https://stories.audible.com/start-listen
100 activities to do in the Great Indoors: https://www.standard.co.uk/showbiz/celebrity-news/bear-grylls-scout-activities-great-indoors-a4393216.html
A list of useful resources for adults and some suitable for children: https://chatterpack.net/blogs/blog/list-of-online-resources-for-anyone-who-is-isolated-at-home
A list of online education resources for home education compiled by the government: https://www.gov.uk/government/publications/coronavirus-covid-19-online-education-resources/coronavirus-covid-19-list-of-online-education-resources-for-home-education
Kisz Fit: play games, create posters/stories, colour in, do exercises https://kidz-fit.co.uk/kidz-zone/
https://www.bbc.co.uk/bitesize
http://www.amazingeducationalresources.com/
https://www.bbc.co.uk/cbbc/joinin/about-blue-peter-badges
28 Days of Activities: see document below.
Lego Challenge: see document below for a fun lego challenge!