PTA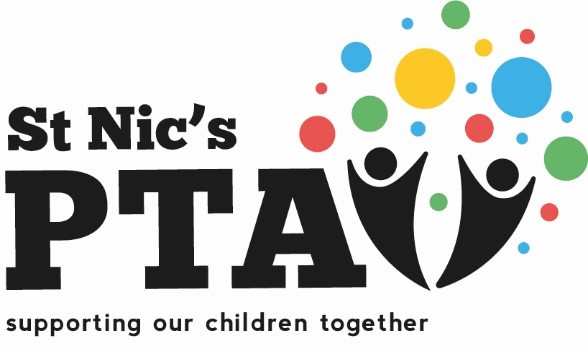 St Nicolas and St Mary CE School has an active Parent Teacher Association that plays an important role in the life of our school. The PTA aims to raise funds to support the school and provides a variety of social opportunities for the whole family. It regularly organises film shows, quiz nights, fun days and the fantastic Christmas and Summer Fayres. The PTA has its own facebook page where it posts news and messages. Do join it by following this link: PTA facebook page (you do need to be logged in to Facebook).
Sacha Ladkin is the Chair of the PTA and she is supported by a Committee of dedicated parent volunteers. All parents and members of staff of the school are automatically members of the PTA and we encourage everyone to get involved in our events and activities. Please look out for invitations to their regular meetings in the weekly Parent Bulletin. Everyone is welcome.
Minutes from the meeting held on 23rd January 2020
Minutes from the meeting held on 24th September 2019
Minutes from the meeting held on 13th May 2019
Minutes from the meeting held on 5th February 2019
Minutes from the Annual General Meeting held on 14th November 2018
Minutes from the meeting held on 14th November 2018
PTA Film Night EY & KS1 - Peter Rabbit
Simple ways that you can help the PTA…
Volunteer! If every parent/carer helped at just one event every two years, we could easily run so many wonderful events- we always have many more ideas than we can physically put into action!
Use Easyfundraising to raise money when you shop online! Visit https://www.easyfundraising.org.uk/causes/stnics/
Would you miss £1 per month? Please set up a Direct Debit to the PTA - just £1 per month, per family or per child, or whatever you feel able to give. Also, complete a Gift Aid form if you are eligible, so that we can claim another 25p on every £1 of your contributions – the form is attached below.
Buy your children's name tags & stickers from MyNameTags.com, quoting the school ID 59580, or labelplanet.co.uk quoting school number 35375 – raise money with every order!